French Open: Serena Williams admits serve eased her nerves
By Piers Newbery
BBC Sport at Roland Garros
Last updated on .From the section Tennis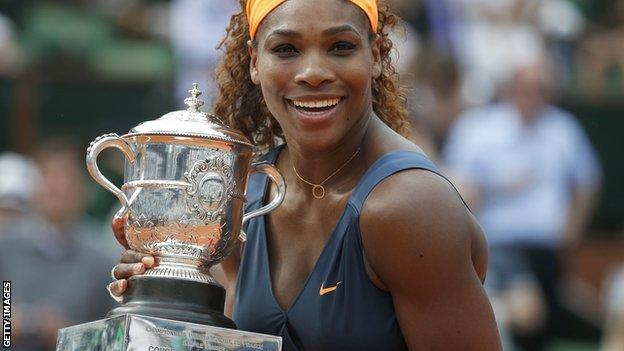 Serena Williams relied on her superb serve to win a second French Open title as nerves took hold in the closing stages against Maria Sharapova.
The American, 31, topped the serving charts in Paris during the fortnight, and came out on top in the final.
Williams fired down three aces in the final game to win 6-4 6-4 and claim her 16th Grand Slam singles title.
"At that point I was just so nervous," she said. "I thought: 'I'm not going to be able to hit groundstrokes.'"
She added: "As you see, the one groundstroke I did hit went like 100 feet out. I thought to myself: 'Look, Serena, you've just got to hit aces. That's your only choice.'
"I wouldn't have been able to hit a forehand or a backhand or any shot, for that matter."
Asked how she was able to serve so much better than the taller Sharapova, Williams added: "I'm a lot smaller then Maria, so I don't know how I'm able to serve so big.
"I think growing up with Venus, she's serving so big I was like: 'I want to serve big.'"
Williams is the oldest winner at Roland Garros since the Open era began in 1969, and she moves to within two of Martina Navratilova and Chris Evert in the list of Grand Slam singles titles.
"I'm just trying to go up and up," she said. "Today, when I won, I was trying to win the French Open; I wasn't trying to get to number 16.
"I feel like I definitely want to continue my journey. If it means I stop at 16 or if it means I have more, I definitely want to continue my journey to get a few more."
And the American had a special word for Paris, where she has an apartment and trains with French coach Patrick Mouratoglou.
"I have always had a wonderful relationship here in Paris," she said. "I feel great. I guess you can say I really do feel like myself. I feel really relaxed here. I feel like I can just live a normal life here."
Sharapova had gone into the final as an outsider against an opponent who had lost just three matches in a year.
"I'm a competitor and I'm a fighter and I don't train to lose," the Russian said. "Nobody does, so of course I'm disappointed about that.
"But that's the feeling that ultimately will make you work harder and make you think a little bit."
Sharapova was left to reflect on her 13th successive loss to Williams, a run stretching back to 2004.
"I thought I earned my position to be in the final," said the 26-year-old. "I did put up a fight obviously today against her; it was not enough.
"But she's been playing really great tennis. That's certainly not an excuse, but she is playing extremely well."
And the world number two admitted she could do nothing about the American "serving harder than David Ferrer when he gets to the final of Roland Garros", despite knowing what was in store.
"We know she's going to be able to hit a big serve," said Sharapova.
"I mean, I think if I was built like Serena, I hope I'd be able to hit a big serve like that, too."