Novak Djokovic aims to bounce back from Rafael Nadal defeat
By Piers Newbery
BBC Sport at Roland Garros
Last updated on .From the section Tennis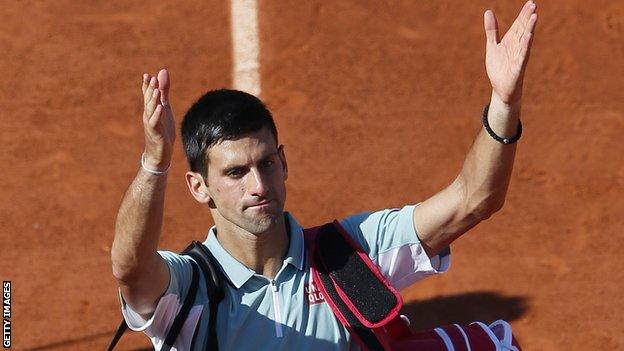 Novak Djokovic said he hopes the inspiration of playing at Wimbledon will help him get over his defeat by Rafael Nadal at the French Open.
It ended his hopes for this year of capturing the one Grand Slam title he has yet to win.
"I lost the match after five hours," said the Serb. "I wanted this title so much, so I am disappointed."
He added: "I don't think it's going to take the toll on me in the future because I have been in these particular situations before.
"Hopefully I can use this next period that is coming up to recover and mentally get motivated, get inspired again, to play my best tennis in Wimbledon."
Djokovic had been upset by the state of the court in the closing stages against Nadal, but his request that it be watered fell on deaf ears.
"In my opinion it was too slippery, too difficult to change direction," he said. "I just don't understand. I think that it's wrong what they did."
He was within sight of victory with a break in the final set but was pegged back after touching the net when putting away an easy smash at deuce.
"I don't know if it's taken into consideration if the ball is already out of dimension of the court," he said.
"But who knows which direction that would go if I won that point. And I should have won that point in 99.9% of cases."
Djokovic has now lost to Nadal four times at Roland Garros, but he vowed to return next year for another attempt at completing his Grand Slam set.
"Nothing comes easy to you; you've got to earn it," he said.
"It's not the end of the world. Of course the feeling is not great at the moment, but I still feel I have years in front of me.
"So I will come back to Paris, to this Grand Slam, and I will keep on trying to win it."
Nadal is back in a Grand Slam final for the first time since he beat Djokovic in Paris last year.
The 27-year-old missed more than seven months with a knee injury after Wimbledon, and he admitted that matches like his semi-final were what he missed most.
"I learned during all my career to enjoy suffering, and these kind of matches are very special," said the Spaniard. "You don't have the chance to play these kind of matches every day.
"I really enjoy suffering, because what's harder is when I am in Majorca last year and I had to watch these kind of matches on the TV.
"Today I am here. So you can lose, you can win, and that's part of the sport. That's the good thing about the sport. That is real."