Laura Robson: Miles Maclagan to work with British number one
By Piers Newbery
BBC Sport at Roland Garros
Last updated on .From the section Tennis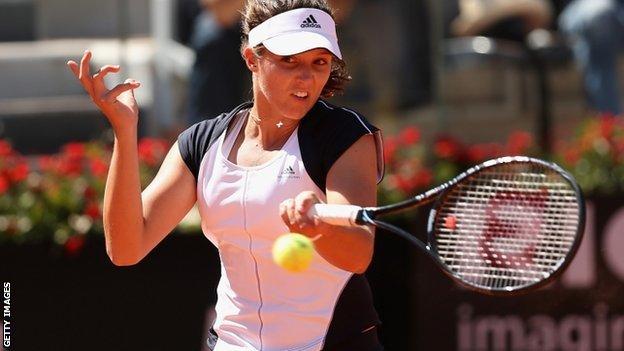 Laura Robson will start work with Andy Murray's former coach Miles Maclagan on Wednesday, with a view to making the arrangement permanent.
"We're going to start out for a little period over the grass to see how things go," Maclagan told BBC Radio 5 live.
The former Great Britain Davis Cup player, 38, coached Murray from 2007 to 2010, and has since worked with Germany's Philipp Kohlschreiber and Cypriot Marcos Baghdatis.
Asked about working on the women's tour for the first time, Maclagan said: "It's a new challenge and that's why we have a trial period - to see what happens."
Robson, ranked 37th in the world, has suffered seven first-round defeats this year, the latest of which came against 10th seed Caroline Wozniacki at the French Open last week.
But she has also beaten the likes of Petra Kvitova, Agnieszka Radwanska and Venus Williams in 2013, following victories over Kim Clijsters and Li Na at last year's US Open.
"That is the big attraction of it," said Maclagan.
"She clearly has the mind for the big stadiums, for the big time, to take on the big players. It's a key ingredient in anyone who's going to play well.
"There's a lot I need to learn about the women's tour and, to be honest, Laura's not someone I've really studied. I've watched her just in passing rather than studied her, so there's a lot about her game that I need to know.
"But just to see those things - a young player with a lot of firepower and the ability to take on the top players - is exciting."
Maclagan, who began working with Murray when the Scot was 20, said he has yet to make any decisions about possible improvements to Robson's game.
"When I first had a conversation with Andy and we started, I said, 'I've got some thoughts but it's sort of irrelevant because I need to know what you think about your game.'
"Until you know someone it's tough to make any calls."
Robson's former coach, Krajan, suggested the Briton lacked maturity and commitment after they went their separate ways in May.
The Croat is renowned for being a hard taskmaster, in contrast to the more laid-back Maclagan.
"One thing I've learned is that what we see from the outside is so often not the case," he said.
"I think I am pretty chilled in some ways, but if practice isn't of a quality or standards aren't there, then I'm not so chilled."
Robson's best effort at a Grand Slam to date was last year's run to the fourth round at the US Open, and her new coach is keen to rein in expectations.
"She's beaten top players so her sights should be high," said Maclagan.
"She's at a pretty good ranking at a young age and with the firepower she does have the ability to do some damage, but to start saying you should wins Slams - I don't think anybody should or has a right to win them.
"There's a lot of work to do."