French Open: 'French tennis and 30 years of hurt'

By Piers Newbery
BBC Sport at Roland Garros
Last updated on .From the section Tennis73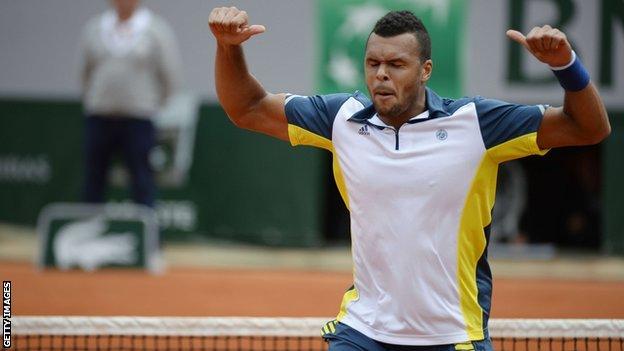 Would you rather have one Grand Slam champion or 12 top-100 players?
That is the stark contrast highlighted by an opening week at Roland Garros which involved no British men in singles action for the first time since 2007.
Frenchmen were everywhere you looked, with Gael Monfils taking early top billing and leading man Jo-Wilfried Tsonga fancied for a run at the final having landed in the more comfortable side of the draw.
France has 20 men ranked higher than Britain's number two James Ward, at 207 in the world, and provided seven of the last 32 at Roland Garros.
Without injured US Open champion Andy Murray, Britain had just one man in qualifying, the recent Australian import Brydan Klein, who lost in the first round.
But success is relative and the Paris crowd are a demanding bunch; they have left many a French player an emotional wreck after failing to perform.
Richard Gasquet has had a turbulent relationship with his compatriots since being touted as a future world number one at the age of nine. He now uses his failure, if it can be called that, to reach the top of the rankings as a positive.
"I think not so much pressure," said the world number nine. "Nobody expects I win the tournament, but for sure I want to perform here. I'm very motivated, so I will try to do my best.
"There is a lot of French good players, and we will try our best to go far in the tournament, but for sure we are not the favourite. There is Djokovic and Nadal."
And there is the problem.
It was not Tsonga, Gasquet or Monfils who dominated the build-up to the French Open but Yannick Noah, the last Frenchman to lift the Coupe des Mousquetaires 30 years ago.
If the British are obsessed with their now 77-year-wait for a Wimbledon men's champion, 1983 is starting to feel like an awful long time ago across the channel.
Tsonga, Gasquet, Monfils and the rest are all terrific players, but the odds on any of them winning a Grand Slam are long while the top four continue to dominate.
"The sooner the better," is tournament director and French federation chief Gilbert Ysern's blunt point of view on when a French man will win a major.
"Still talking about Yannick Noah's win 30 years ago is not too good," he told BBC World Service. "It's difficult because the level of the top four guys is so high that it's very difficult for any player, including ours, to beat them.
"We have top-10 players but beating two or three of the top four to get a Grand Slam title is a very, very difficult achievement and unfortunately they have not succeeded yet, and I believe it's going to be difficult the next two or three years."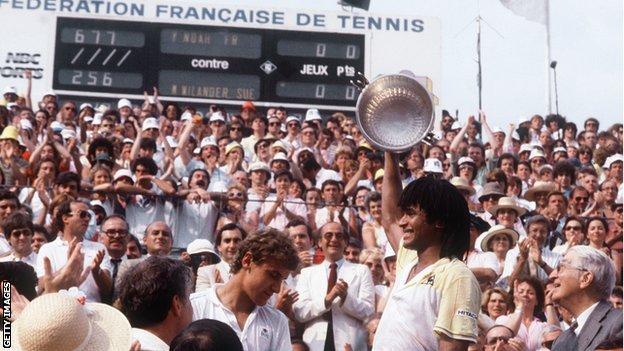 Still, the Philippe Chatrier and Suzanne Lenglen stadium courts have thrilled to the exploits of Monfils in recent days, and the prospect of Tsonga facing Roger Federer in the quarter-finals will keep tennis in the spotlight in France.
British tennis has been given a boost in recent years by the arrival of Laura Robson and Heather Watson as world-class players, but the hopes of a home winner at Wimbledon next month rest solely with Andy Murray - and his vulnerable lower back.
That France can produce more top-class tennis players should not come as a surprise looking at the statistics, despite solid numbers being hard to come by.
The two countries have similar population sizes and, according to Tennis Europe, numbers of regular players (although that figure is especially debatable), but France has 50% more tennis courts, four times the number of indoor courts, and three times the number of clubs.
With tennis so much more part of the sporting culture it is little wonder the French can produce more top men than Britain, with a ratio of 20 to 1 in terms of the top 200. However, Britain leads 1-0 in terms of Grand Slam singles titles in the last 30 years.
"We do believe that a Grand Slam winner or a number one in the world is not something that a federation can provide," says Ysern.
"We believe that if we do a good job we will breed top-100, top-50, maybe top-20 players, then the one who's going to win a Grand Slam or reach number one in the world is going to have something I'm not sure a federation can give him.
"It's some additional thing they really have personally and it's difficult for a federation to teach that to any player."
France and Britain share an annual fortnight of tennis purgatory, but while the French enjoy a week of thrills and spills before missing out on the prizegiving, Britons wonder where the rest of their tennis players are, all the while expecting the number one to be there at the business end.
The best a Frenchman has done at Roland Garros since Noah was Henri Leconte's final in 1988, but he was swept aside by Mats Wilander, while Britain has been able to enjoy - or endure - Tim Henman and Murray providing seven semi-finals and a final in the last 15 years.
Maybe the men should take the advice of Mary Pierce, the woman who ended France's 33-year wait for a female French Open champion in 2000.
"There is definitely that extra pressure because you want to win for yourself and for the crowd, and your family," she told the BBC. "I had my aunts, cousins, uncles here. You have lots of extra media attention, so there's definitely more pressure.
"You have to mentally psyche yourself out and tell yourself it's just another match, just another tournament.
"I know I've come through so many matches on that court because of what that crowd gave me - it can be just one fan with one word or little phrase - but there are some players that couldn't ever deal with the pressure and expectations."
Tsonga will do well to convince himself it is just another match when he steps onto court to face Federer in the quarter-finals, but with previous Grand Slam wins over the Swiss - and a draw that kept him apart from Rafael Nadal and Novak Djokovic - the anticipation is building.
"I'm French, it's in France, and of course there may be a bit more pressure, but for me it's positive," he said. "It's positive pressure, because I have everything to win and I would say nothing to lose.
"But if I go far in this tournament or if I win, it's going to be something huge."