French Open 2013: Ten things we have learned so far in Paris

By Jonathan Overend
Presenter, on BBC Radio 5 live
Last updated on .From the section Tennis101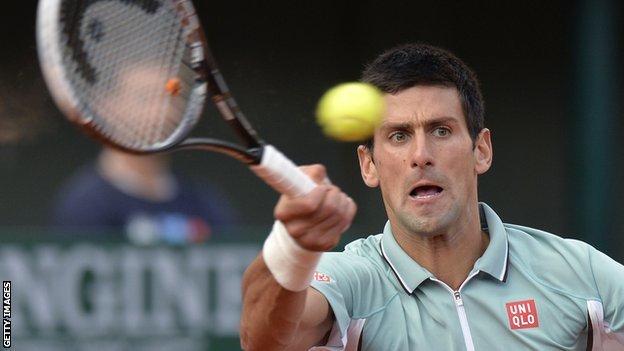 1. Djokovic looks ready to take out Nadal
Rafael Nadal was the pre-tournament favourite, winning six out of eight tournaments he's played in since his return in February from injury, but the evidence of the first week of the 2013 French Open has boosted Novak Djokovic's case.
Nadal is nowhere near his best and will certainly want to tighten up a sometimes wayward forehand. He dropped a set in his first two matches and though he beat Fognini in straight sets on Saturday, it didn't feel like it.
Djokovic, in contrast, has motored through the first week and, if they meet in the semi-final on Friday (a match everyone here wants to see) it seems increasingly possible that the Serb will take out the champion, as he did in Monte Carlo earlier this year.
2. Rafael Nadal does not run tennis
Hitting form in the interview room, Nadal delivered a lively press conference on Friday complaining that he had not got on court the previous day because of rain and bad scheduling. He felt he should have played at roughly the same time as his next opponent, and before at least one of the women's matches.
He had a point but missed a wider one. It's impossible to please everyone and it's well worth noting that in Australia and at Wimbledon, Nadal and the other top seeds benefit hugely on rainy days because they are scheduled on the show courts and can play under the roofs, whatever the weather.
3. Having said that…
The French Open has many scheduling issues to fix. The Sunday start means the first round is played over three days and, over the first two rounds, players don't know whether they'll be on the schedule the next day or not.
Ryan Harrison, the American, went on the offensive on Twitter because he found out at 11pm that he would be first on the schedule at 11am the next day for his match with John Isner. That is unacceptable. Likewise the sporadic organisation of the doubles competitions which meant some first-round matches were still being played over the middle weekend.
4. Single-handed backhands are back

Of the 16 men who made the fourth round this year, eight had single-handed backhands. A beautiful thing.
Gaston Gaudio in 2004 and Roger Federer in 2009 have won the French Open men's singles 'single-handedly' in the past decade and two of Monday's matches will demonstrate the art perfectly - Tommy Haas v Mikhail Youzhny and Stanislas Wawrinka v Richard Gasquet.
Played well, with its extravagant follow through and flashing flourish, the single-handed backhand remains one of the best sights in the whole of sport.
5. Haas has still got it
Twelve months ago I was tapping up Tommy Haas as a BBC Radio commentator for Wimbledon because his career seemed to be tailing off. Ranked 112, the German replied to my email enthusiastically.
He was very interested but, still fancying his chances of one more shot at the big time, he was waiting on a wildcard from the All England Club.
A couple of weeks later he beat Roger Federer in Halle and, fast forward a year, Haas is seeded 12 here in Paris. On Saturday night he ran his 35-year old body into the clay to come from a break down in the fifth and final set to beat John Isner.
He knows he's welcome in the box any time but has some more tennis to play first.
6. Mattek-Sands leads American revival
One player who has successfully combined playing with the start of a broadcasting career is Bethanie Mattek-Sands. Much to the irritation of some, who see her as way too leftfield for the conservative sport of lawn tennis, the American has impressed on 5 live at Wimbledon for the past three years with incisive analysis and insight.
And at the age of 28, her defeat of Li Na and a follow-up win over Paula Ormaechea proved she has plenty of game left. She was one of four Americans who started in the last 16 of the women's singles.
7. Youngsters
If we didn't know it already, professional tennis is becoming less of a young person's sport. Prize money discrepancies mean it's proving harder and harder for them to graduate from Futures and Challenger level unless they possess exceptional talent.
The 'prospects' in the men's game - Grigor Dimitrov, Kei Nishikori, Milos Raonic, Bernard Tomic and Jerzy Janowicz - are now all in their 20s and decently ranked. Only three teenagers were in the main draw. And in the women's fourth round only Sloane Stephens was under the age of 23. The day Martina Hingis played the final here at the age of 16 seems a very distant memory.
8. Robson looks afraid of stardom

Britain's Laura Robson is an incredible talent, beating a whole string of top-10 players inside the last nine months, but the 19-year-old appears affected by the extra attention this has brought.
In Paris she bristled under light questioning in a press conference and in Buenos Aires, on Fed Cup duty, she seemed happiest when banging her drum on the sidelines rather than carrying British expectations on the court.
This is a high-pressure business and Robson's handlers have to be careful not to raise unnecessary barriers. Ultimately, the player needs to decide whether tennis stardom is for her. And if it is - just as Andy Murray discovered at the same age - she has to accept the associated extra commitments and pressures.
9. Watson is ready to rise again
Heather Watson lost in round one and obviously that isn't ideal. But she showed enough fight, hunger and energy to suggest she is over her bout of glandular fever. That was the only news that really mattered.
Had she lost to Stephanie Voegele love and one, she'd be dogged by questions and concerns about returning too soon and Wimbledon probably wouldn't have been much fun. Instead, she's ready to compete at her natural level again and looked a completely different person and player in Paris from the lethargic and confused person we last saw in North America in March.
10. Dimitrov remains unconvincing
The Bulgarian's success over Djokovic in Madrid was a big moment for tennis and there's little doubt he's heading for the top 10.
But at the Grand Slams, where he has only won seven matches and made the third round only once, doubts over his mental fortitude remain.
As well as Djokovic played, Dimitrov's performance hardly justified the prediction in "L'Equipe" that he will be a future world number one.
Having said that, Roger Federer hardly enhanced his claim to future greatness when he lost to Luis Horna at the French Open in 2003, just three weeks before his Grand Slam-winning career began!
Perhaps this tennis summer has some surprises in store...