Rafael Nadal's winning return exceeds all expectations

By Jonathan Overend
BBC Radio 5 live
Last updated on .From the section Tennis70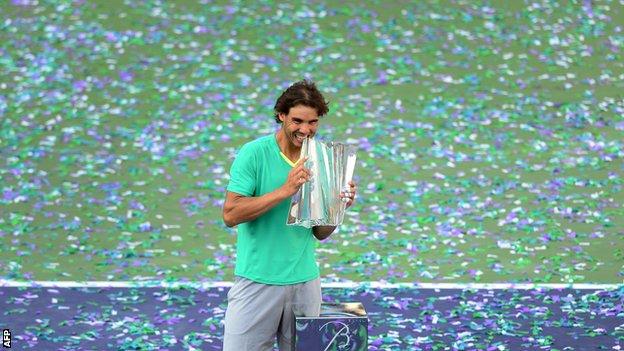 Rafael Nadal knew something was clicking when he broke par around Larry Ellison's perfectly manicured personal golf course out in Indian Wells.
With under-green air conditioning, the 18 holes belonging to the third richest man in America - the owner of the BNP Paribas Open - are said to make up one of the best private courses in the world. No wonder Nadal had a daily tee-time arranged.
The Spaniard's primary focus however was not about smoothness of swing or potency of putting, it was about his return to top-level tennis and the reaction of his troublesome knees to hard courts.
Delighted as we were to see him back at a Masters 1000 tournament for the first time since May 2012, back on the concrete for the first time since last March, few on the eve of this Californian dream of a tournament expected the 26-year-old to get near the final, let alone win it. Some feared he may break down or even lose his opening match to Ryan Harrison.
His personal preview was delivered with nervous caution, perfectly downplaying his chances. Seven months out of the game with ongoing knee trouble left him talking about "good days and bad days".
But this is Nadal, one of sport's great competitors, a former number one with all four of the sport's Grand Slam titles to his name. He can be downbeat into as many microphones as he likes, once he takes the court he growls, grinds, darts and dashes like no other.
And so it proved. His comeback from a set and a break down to beat Juan Martin del Potro in the final to win a first hard court title since Tokyo in October 2010, and a third trophy from four events since his return, was a staggering effort.
The intensity of his play, the determination to salvage every point he played, the furious drive to the line in those close matches against Ernests Gulbis, Tomas Berdych and Del Potro - these very Nadal-like qualities accompanied him all the way to the line and a record-breaking 22nd Masters shield.
He now boasts his best start to a season with 17 wins and just a single defeat - in the final of Vina Del Mar, Chile, to Horatio Zebbalos who, come Wimbledon, almost certainly will be the answer to a quiz question somewhere. He followed that with titles in Sao Paolo and Acapulco.
And if the strength of the fields in those South and Central American tournaments can be questioned, it couldn't in California.
This was the first event featuring the so-called big four of men's tennis - Novak Djokovic, Roger Federer, Andy Murray and Nadal - since last Wimbledon. And unexpectedly Nadal, the man who had slipped to five in the rankings, was the last man standing.
The quality quartet will not be reunited until the start of May in Madrid, by which time Nadal, who is skipping Miami like Federer (they have the equivalent of long-service leave from the ATP allowing them to miss one Masters event a season without penalty), will possibly have won a ninth Monte Carlo title and an eighth in Barcelona.
Surely someone will beat him somewhere but it's entirely possible he could be unbeaten on the European clay, his home from home, moving from Madrid to Rome and culminating with an eighth Roland Garros title in Paris.
If that happens - an unbeaten clay season - he will have won eight successive tournaments. It sounds too ridiculous for words yet I'm struggling to convince myself it's impossible. One defeat going into the grass court summer? With Rafa it seems anything is possible although he will just take full fitness as a winning return, as we all will.
At least he has stern competition because the other main story out of the desert was the return to peak form of Del Potro. As David Ferrer lost his opening match, and Jo Wilfried Tsonga and Berdych lacked the belief to beat Djokovic and Nadal respectively, Del Potro emerged once more as the player most likely to trouble the big four.
It was great to see the 2009 US Open champion adding some slice, net approaches and even a couple of serve and volley attempts. The Argentine is also an underrated showman and, as the Olympics proved, does have the ability to engage a crowd. It's brilliant to have him back at his best again.
Likewise Nadal who, after winning in Indian Wells, chose Ellison to celebrate with first, running to the far end of the court to shake the tournament owner's hand. Ellison had been seen punching the air as Nadal won key points and, if they took the moment to fix another tee-time, Rafa would probably have broken the course record.
It's hard to tell whether he's on better form on the course or the court, going by recent scores.