Victoria Azarenka blames medical timeout on breathing problems
By Piers Newbery
BBC Sport at Melbourne Park
Last updated on .From the section Tennis60
Victoria Azarenka said she had to take a controversial medical timeout because of breathing problems in her semi-final win over Sloane Stephens at the Australian Open.
The world number one left the court for almost 10 minutes, with Stephens waiting to serve to stay in the match at 6-1 5-4 down.
Azarenka had squandered five match points in the previous game, but on the resumption, she broke serve immediately to seal victory and set up a final against China's Li Na.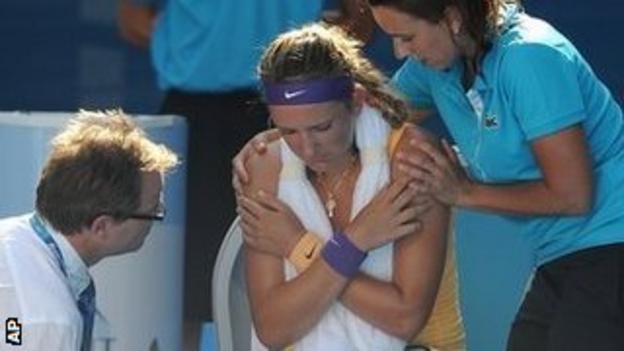 "I had been struggling a little bit throughout the whole match, from the second set, with my back, and it just kept getting worse," said Azarenka, who hurt her left ankle earlier in the set.
"I should have called the trainer a little bit earlier before I got to the point that I couldn't really breathe and had to go off court.
"So there was a little bit of my bad. But just a rib got locked and kept getting worse. I had to have it adjusted. I really had to go and take that medical timeout."
In her on-court interview immediately after the match, the Belarusian said she had taken the timeout because she felt "overwhelmed".
However, timeouts must be taken for medical reasons and it was under the trainer's instructions that she left the court for treatment. Azarenka later explained that she had misunderstood the question and sought to clarify.
"I was really panicking, not because I couldn't convert my match point. That's not the case," she said.
"I'm experienced enough to go over those emotions. But when you cannot breathe, when something's really blocking you, the stress, that was the stress I was talking about.
"I just couldn't realise what was going on with me."
She also insisted that she had only taken one timeout, despite the length of time she was absent and suggestions she had also been treated for a knee problem.
"I feel like it had to be explained, the situation," said the 23-year-old. "I understand the point of people maybe not understanding what I said; me not understanding what I've been asked.
"So I'm just glad that I'm here, you know, to make everything clear, and that's it. You know, I think you cannot really judge by few words. The situation had to be explained. I'm glad I'm here doing that."
Asked if she understood how it could have been construed as gamesmanship, Azarenka responded: "I don't really because it was necessary thing for me to do, as I said. I just regret that I didn't take it earlier.
"That it got to the point that it was pretty much impossible for me to breathe and to play. It took a little bit longer."
Stephens, 19, playing in her first Grand Slam semi-final, played down the timeout issue
"I love Vika and we share the same agent," said the American. "We actually are pretty good friends. I'm sure I'll see her and we'll talk about it."
She added: "It's happened before. I mean, I've had in the last match, the match before, medical breaks, go to the bathroom, the whole showdown.
"It was just something else, but it didn't affect anything I don't think."