Victoria Azarenka and Roger Federer advance in Australia
Last updated on .From the section Tennis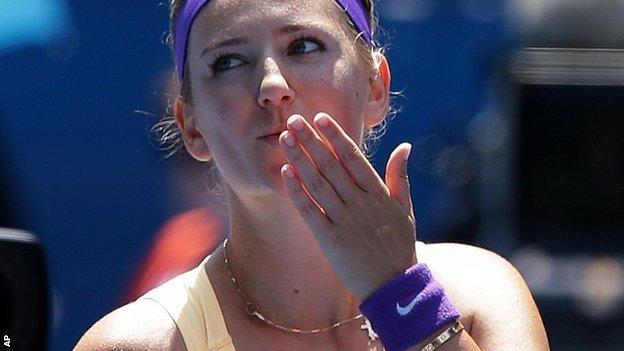 Defending champion Victoria Azarenka strolled into the quarter-finals with a simple win against Elena Vesnina, remaining on course for a semi-final with Serena Williams.
World number one Azarenka triumphed 6-1 6-1 to book a meeting with Svetlana Kuznetsova, who knocked out 10th seed Caroline Wozniacki.
Williams, who has lost just once since her first round exit at last year's French Open, produced a dominating performance in her 6-2 6-0 victory over Maria Kirilenko.
In the men's draw, four-time Australian Open champion Roger Federer was also in convincing form with a straight sets win over Milos Raonic, setting up a quarter-final with Jo-Wilfried Tsonga.
Rod Laver Arena
Svetlana Kuznetsova (Rus) beat Caroline Wozniacki (Den) [10] 6-2 2-6 7-5
Two-time Grand Slam winner Kuznetsova pulled off a shock in upsetting former world number one Wozniacki.
Kuznetsova, who at 75th is the lowest-ranked player left in the tournament, was out for a big chunk of 2012 after an injury to her right knee forced her to miss the US Open, breaking a run of 40 Grand Slam appearances in a row.
"After 10 years of travelling I was getting tired," the 27-year-old said of her time on tour. "But I'm feeling fresh again and very happy to be in the quarter-finals because I struggled last year."
Victoria Azarenka (Blr) [1] beat Elena Vesnina (Rus) 6-1 6-1
The top-seeded Belarusian lost her serve in the opening game of the second set but other than that minor blip it was all one-way traffic as she strolled through in 57 minutes, though seven double faults might be a worry.
Azarenka, who beat Maria Sharapova in last year's final, needs to win again to have any chance of remaining world number one with Sharapova and Williams breathing down her neck.
"The top battles are starting now," she said. "I'm really excited to be so far in the tournament again."
On playing Kuznetsova, she said: "I can see Sveta has come back much fresher, much stronger. She knows how to handle big stages, big tournaments. She's a Grand Slam champion as well."
Jo-Wilfried Tsonga (Fra) [7] beat Richard Gasquet (Fra) [9] 6-4 3-6 6-3 6-2
Tsonga levelled his head-to-head stats with compatriot Gasquet at 4-4 to book a quarter-final against second seed Federer.
Tsonga, who lost the 2008 Australian Open final to Novak Djokovic, has lost his last four matches against the Swiss ace, who beat Raonic in straight sets.
"Richard is a very good friend and I have known him since I was 10. It's never easy to play against a friend," said Tsonga.
Serena Williams (USA) [3] beat Maria Kirilenko (Rus) [14] 6-2 6-0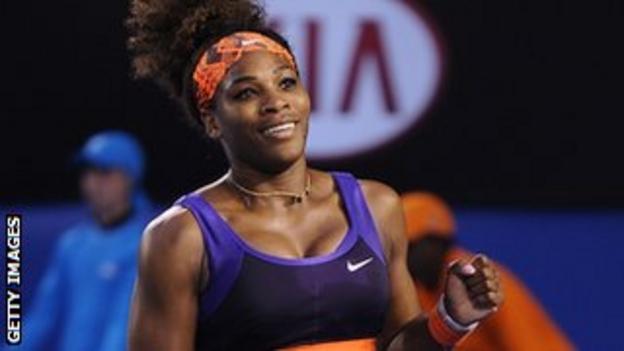 Five-time Australian Open champion Williams powered past Kirilenko in just 57 minutes to stretch her unbeaten run to 20 matches.
Williams' power proved far too much for her opponent, as she enjoyed nearly 90% of successful first serves, as well as hitting 22 winners.
The 31-year-old, who could become the oldest woman to become world number one with victory in Melbourne, will now meet Sloane Stephens for a place in the semi-finals.
"I'm really out there just doing the best I can, just fighting for everything," said Williams.
"I think with that attitude I'm just trying to stay in the tournament."
Roger Federer (Swi) [2] beat Milos Raonic (Can) [13] 6-4 7-6 (7-4) 6-2
Federer moved into his 35th consecutive Grand Slam quarter-final with a routine straight sets win over the 13th seed.
After the turbulence Djokovic encountered against Stanislas Wawrinka, some expected the big-serving Canadian to give Federer problems, but the only sign of a Raonic challenge - taking the second set to a tie break - was quickly, and classily, stifled.
Federer followed up his second-set tiebreak win by breaking Raonic in his first two service games, allowing him to finish the final set in 35 minutes, and complete the victory in one hour, 53 minutes.
"I've got good reflexes," said Federer when asked how he coped with Raonic's serve.
"You try to anticipate a bit, and it happened better and better as the match went on. It's important to stay focused. I have learned that over the years, and it pays off in the end."
Hisense Arena
Jeremy Chardy (Fra) beat Andreas Seppi (Ita) [21] 5-7 6-3 6-2 6-2
France's world number 36 Chardy reached the first Grand Slam quarter-final of his career and will play US Open champion Andy Murray for a semi-final place.
The 25-year-old had never made it past the second round in four previous visits to Melbourne.
"I always play bad in Australia but this time, I played good," said Chardy. "I am feeling very good on the court. It was a very difficult match in the beginning and I was tired, but it was the fourth round in a Grand Slam so I had to be strong in my head."
Sloane Stephens (USA) [29] beat Bojana Jovanovski (Ser) 6-1 3-6 7-5
Andy Murray (GB) [3] beat Gilles Simon (Fra) [14] 6-3 6-1 6-3
Murray is still to drop a set in this Grand Slam as he eased into the Australian Open last eight against an exhausted Simon.
It took the Brit just one hour 32 minutes to dispatch the Frenchman, who had been involved in a near five-hour epic with Gael Monfils in the previous round.
Britwatch
Harriet Dart (GB)/Ching-Wen Hsu (Tpe) beat Ellen Perez/Belinda Woolcock (Aus) 6-4 7-5
Quotes of the day
"Well, I don't care now, to be honest." Never ask a beaten player how their opponent will do in the rest of the tournament, as demonstrated by Maria Kirilenko on Serena Williams.
Gilles Simon at least made it on to court after Saturday's epic 4hr 43mins win over Gael Monfils, but he had nothing left to trouble Andy Murray. So how did he prepare on Monday? "I was just biking 20 minutes, stretching, massage, cold bath. I did everything I could. But it's difficult when you run a marathon two days before to go for one more two days after."
"I never find whether a ball is heavy or light or yellow or pink. It's pretty much the same. I could play with a rock." Serena Williams does not have an elaborate theory why she's serving so well.