Andy Murray has tennis top spot in his sights for 2013

By David McDaid
BBC Scotland in Shanghai
Last updated on .From the section Tennis
Even if he fails to defend any of his titles on this Asian swing Andy Murray will certainly not be going home empty handed.
In fact, such has been the level of goodwill from his fans out here that he may have to shell out a few extra Renminbi on excess luggage when he leaves Shanghai.
"Most years here it can be pretty hectic," he told BBC Scotland. "I get given a lot of presents.
"The strangest gifts so far have been two costumes for the dogs based on characters from the video game Angry Birds."
Pictures, he says, may or may not follow on Twitter.
Tennis fans here in China are, well, fanatical.
They wait in numbers, albeit patiently, outside the hotels hoping to get the autograph of their favourite player, or even better, a photo.
At his pre-tournament media conference the local journalists wanted to know what the Scot thought of the fans.
"I've always had nice support here. They love their tennis," he said.
Another asked if he would copy Novak Djokovic who, at the China Open in Beijing, signed his name on the TV camera lens in Chinese.
"No, I won't," was the succinct but well-humoured response.
"You should try," replied the journalist.
"Should I?"
"It's only one character."
"Okay. Thank you."
And that was that.
But Murray wants to return west with more than just souvenirs and more memories of another Asian odyssey.
He wants to add to the silverware he has won here at the Shanghai Masters for the last two years - obviously.
The personalised, star-spangled carpet in his dressing room, complete with his name woven in - almost certainly not.
Probably most important are the 1,000 ranking points, given his new aim to climb to the very top of the tennis pile.
With last year's big-name absentees, Roger Federer and Djokovic, here this time, the Scot will likely lose some ground to them in the rankings - barring a spectacular and unlikely collapse from both top seeds.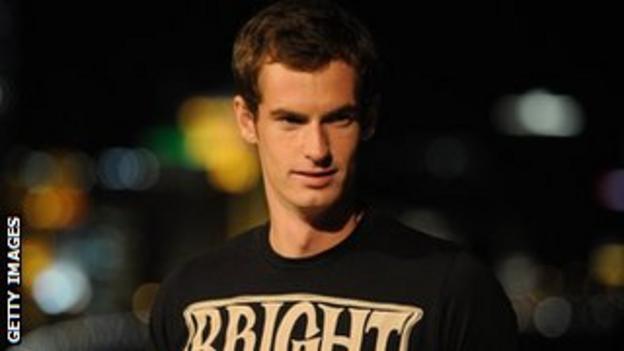 So, instead of easing off, basking in the glow of winning his coveted Grand Slam, Murray wants to finish the year strongly here, at the Paris Masters and in the season-ending finale at the O2 in London.
"I'm very motivated for the end of this year," he said. "I didn't finish last year the way I wanted at the World Tour Finals because I was injured.
"So I want to make sure I'm fully fit for that tournament and I'm looking forward to it."
And good results between now and then will go some way to setting him up for a crack at the top spot.
That is already influencing his 2013 tournament schedule, as he seeks to bank points he may have previously neglected due to his obsessive drive for Grand Slam success.
Instead of playing in Dubai after the Australian Open, he will instead go to Miami to prepare for the Masters events there and at Indian Wells.
Murray added: "I think getting to number one is a reward for playing very good tennis throughout the whole season at pretty much every tournament you play.
"You need to focus on the process, so I'll try to do as well as I can between now and the end of the year.
"If I do that, there's a possibility to get to number one next year."