Andy Murray: Wimbledon semi-final win Twitter reaction
Last updated on .From the section Tennis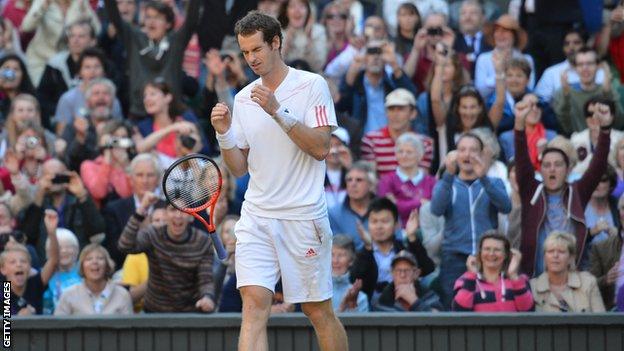 Andy Murray has been congratulated by a host of celebrities after becoming the first British male to reach the Wimbledon singles final in 74 years.
And others released statements backing the British number one to go one step further against Roger Federer in Sunday's final and become the first Brit to win the Wimbledon men's title since Fred Perry in 1936.
"Watching truly great sportsmen is so uplifting! Not just the immense skill, but the heart!!" said former England striker Gary Lineker.
Liverpool and Scotland midfielder Charlie Adam added: "Well done Andy Murray. A true Scotsman."
Adam was not the only proud sporting Scot. Scotland rugby international Rory Lawson tweeting: "Amazing, massive congrats to Andy Murray on reaching the Wimbledon final, the chance to rewrite the history books beckons."
"Huge congratulations to Andy Murray... hugely deserved... #shredthefed on sunday!" said Great Britain's Scottish Olympic volleyball captain Lynne Beattie.
Even Scottish Secretary of State Michael Moore was compelled to pass on his congratulations: "Andy Murray fully deserves his place on the greatest tennis stage of all this Sunday. Everyone across the country will be willing him on, as they have over the years. Andy Murray is already a sporting hero and now he is one win away from becoming a legend. Come on Andy!"
People of influence who took time out from their busy schedules to praise Murray's achievement included Virgin entrepreneur Sir Richard Branson, who told Twitter followers: "Congrats Andy Murray! Good to see a British player in the #wimbledon final, my Scottish wife will be happy!!"
Others took Murray's victory - and that of fellow Brit Jonny Marray, who reached the men's doubles final - as evidence of British tennis growing in stature. British number 14 Oli Golding said: "Whoever said the state or British tennis was bad? Two finalists pretty sure that's more than most other countries! #comeongb."
Ahead of his own big match against US fighter Danny Garcia next weekend, boxer Amir Khan tweeted: "@andy-murray well done mate, what a performance, done everyone proud! Now go and win it!"
"He had a dream path to the final and I'd say he has more chance against Federer than he would against Djokovic. Could this be Murray's year?" said former England striker Michael Owen.
While London Mayor Boris Johnson recognised Murray's achievement by stating: "Well done Andy Murray! Let's hope he can do in this Jubilee year what Virginia Wade did when she won in 1977 during the Silver Jubilee!"
He was not the only politician to pass on his well wishes, Labour leader Ed Miliband adding: "Many many congratulations to Andy Murray. An amazing achievement after 74 years of hurt for British men's tennis at Wimbledon."
Top television personalities such as Stephen Fry, Piers Morgan and Jonathan Ross were also excited by Murray's chances. "Oh I'm all in pieces. You beauty, Andy. I don't mind if you aren't the most cheerful person in tennis. If that's what it takes go and win!" said Fry.
Morgan tweeted: "Scowl and snarl your way to the Title #AndyMurray - nobody wins trophies in professional sport for possession of a cutesy smile. #BritGrit."
While Ross added: "Tsonga gave Murray a real test. He proved himself today. Great match."