Wimbledon 2012: Ailing Agnieszka Radwanska to play women's final
Last updated on .From the section Tennis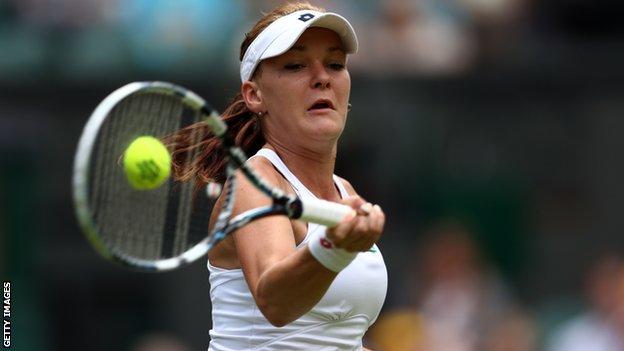 Agnieszka Radwanska will play in the women's final at Wimbledon despite suffering from a respiratory illness.
The Pole is due to face Serena Williams in Saturday's singles final, but pulled out of her pre-match news conference.
"I will do whatever it takes to make sure I'm ready to play the best I can," said the 23-year-old.
Radwanska withdrew from the women's doubles on Wednesday and cut short her post-match interviews after her semi-final because of a severe cough.
"Unfortunately I have picked up an upper respiratory illness, which is affecting my nose and throat," she said.
"I have been playing a lot of matches here in the rain and cold wind, and I haven't been well for a few days.
"The most important thing is that I'm feeling good on the court and playing some good tennis, despite not being able to talk much away from the court."
Radwanska, who beat Angelique Kerber 6-3 6-4 in the semi-finals, will become the new world number one if she wins the title.
"I was really hoping that I would have improved overnight so I could come in to finish my press today, but unfortunately I can't speak for very long," she added.
"Regarding the match against Serena, we have played a couple of times a long time ago. I think it is going to be another challenge, especially here on grass.
"She's playing amazing tennis at the moment. I don't really have much to lose, so I'm going to try my best and we'll see.
"Everyone dreams when they are a kid about becoming number one, so I'm very happy to have a chance to play for the top ranking. But there is still one very tough match to go."
The 2005 junior Wimbledon champion is the first Polish Grand Slam finalist for 73 years.