Wimbledon 2012: Andy Murray v Jo-Wilfried Tsonga analysis
By David Ornstein
BBC Sport at Wimbledon
Last updated on .From the section Tennis
Andy Murray is into the Wimbledon semi-finals for a fourth straight year, but on this occasion it will not be Rafael Nadal standing in his way.
Nadal's opened the door for Jo-Wilfried Tsonga and the Frenchman has capitalised to seal a last-four meeting with Murray.
The Scot leads their head-to-head 5-1, including wins in the 2010 Wimbledon quarters and the 2011 final at Queen's club.
But the spectacular Tsonga was runner-up at the 2008 Australian Open and stunned Roger Federer here last year.
BBC Sport analyses whether Murray can become the first British man since Bunny Austin in 1938 to reach the Wimbledon final.
Andy Murray, fourth seed
"Jo's a tough opponent. He's served very well so far this tournament. It's a very different match to playing against Rafa, but he's one of the best grass-court players in the world.
"Having played Jo quite a lot of times in the seven years I've been on the tour, I know him well and I'll draw from that experience.
"Rather than focusing on it being the semi-finals of Wimbledon, I need to focus on it being a match against Jo, what I do well against him and what's worked against him in the past."
Jo-Wilfried Tsonga, fifth seed
"It is going to be a big fight and I have to be ready. Almost all the crowd will be with him - it will be madness.
"But I have nothing to lose and the pressure will be on him. We're at a new stage of the tournament and I'll try to play it with a light heart."
Boris Becker, three-time Wimbledon champion
"Tsonga will try to rattle Murray with his big serve and power game. He is the more dangerous player, but Murray is more consistent, better from the baseline and has a very good return of serve.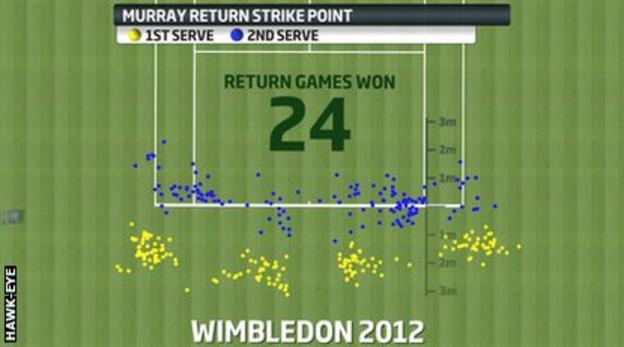 "Meet Tsonga on a good day, when his big first serve is working well, and he can hit you off the court. The question is, will it be working well?
"Murray has started quite slowly in every match so far and it could be dangerous for him to give Tsonga a head start. David Ferrer served for a two-set lead against him, and if Tsonga has chance he will take that.
"It all depends on when the Murray return kicks in and when his groundstrokes start to find their target - the sooner the better.
"He's under a lot of pressure here but mentally he has impressed me. He's had some ups and downs on the court, especially against Marcos Baghdatis, but we haven't seen him getting emotional.
"When Murray has really needed to turn it on, he's found a way to do it. The stars are looking good and you'd rather play Tsonga than Nadal in the semis, but the truth lays on the court.
"Be brave. You don't get many chances to reach the Wimbledon final. If you play with belief and courage, you have a great chance."
John Lloyd, former British number one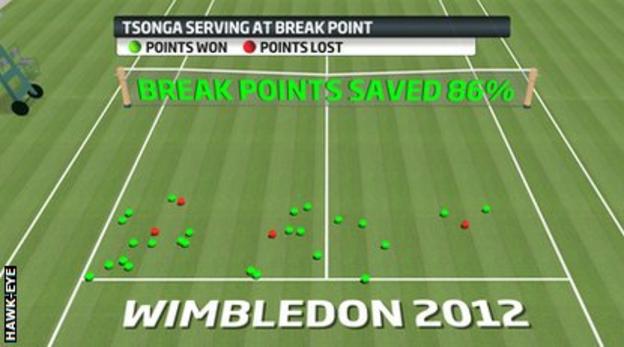 "At the start of the fortnight, you'd have said Tsonga was the only player outside the big four realistically capable of of winning the event.
"He's dangerous - the sort of player who's going to be very explosive at the beginning and take the match to Murray.
"But as long as Andy stays with him, he's got the sort of game that will manoeuvre Tsonga around enough and always make him play one more ball.
"While Tsonga is a great talent, he's tended to falter because over five sets he makes a few too many errors on crucial points.
"Murray likes playing people who have a high error rate and, mentally, he's just not as strong as the other leading players.
"It's vital Murray serves well, which he's been doing throughout, and stays patient because there could be periods where he's being dictated to, when Tsonga goes on a winning barrage.
"At that stage, he must try to force Tsonga to go for winners from places where he doesn't want to go for them - keep him pegged back in corners until he gets frustrated and starts missing.
"If it was the best of three sets then it would tough to call. But in the best of five, Murray will be too good for him."