Wimbledon 2012 quotes of day seven
Last updated on .From the section Tennis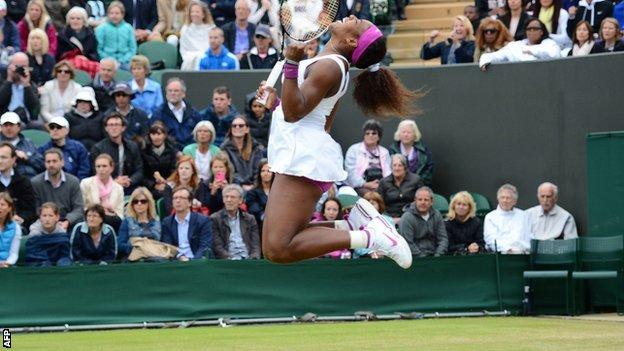 Serena Williams survived a three-set examination by Yaroslava Shvedova to book her place in the Wimbledon quarter-finals, then complained about the security at SW19.
The four-time winner at the All England Club, who meets defending champion Petra Kvitova for a place in the semi-finals, says she was surrounded by fans after leaving Court Two.
Mob rule
"I was totally mobbed," said Williams.
"Literally, I thought I was going to fall down today after the match. You know, I guess that comes with the territory. It was crazy out there today.
"I was literally almost knocked over today. There were tons of security guards in there just going nuts and screaming. I've never heard them scream so loud.
"Nobody is going to knock me over. I'd like to see that happen.
"Maybe that's why I got on Court Two, because they knew I could back myself up. When it boils down, I guess I didn't really need it."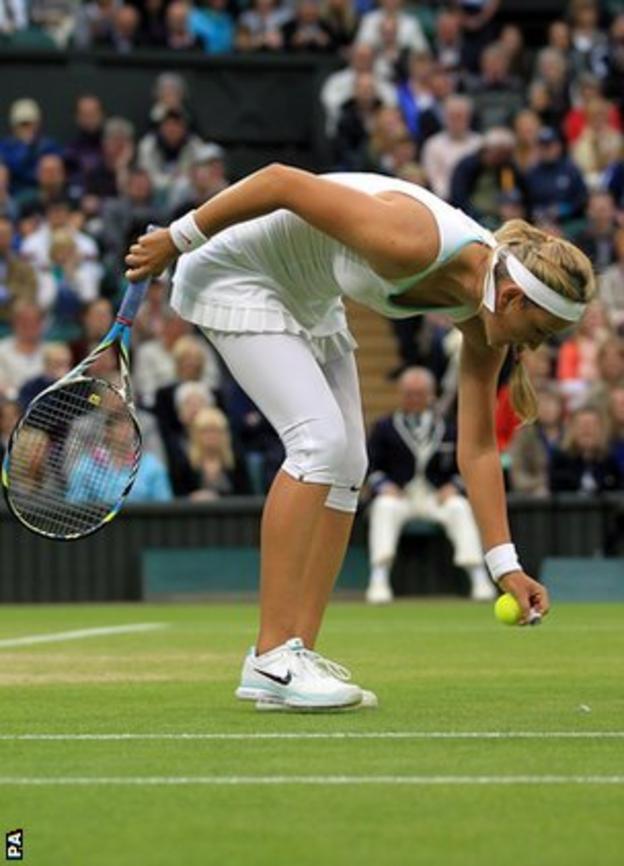 Pigeon-holed
World number two Victoria Azarenka had few problems in demolishing Ana Ivanovic 6-1 6-0, but was halted temporarily by pigeon feathers falling from the Centre Court roof.
"I just saw some feathers coming down. Actually, I don't know how they got there as the roof was closed. It was kind of interesting," said the Belarussian, who has been criticised for her loud on-court grunting.
"Sometimes it can be annoying when somebody is chewing chips right when you're serving.
"Whatever is going on around is going on around. It's out of your hands. But the feathers, it was fun."
Time to say goodbye
Kim Clijsters, the former world number one, said farewell to Wimbledon with a straight-sets defeat by Angelique Kerber.
The Belgian, twice a Wimbledon semi-finalist, will retire after this year's US Open.
"I won't be sorry about anything," said the 29-year-old. "I know that every time that I've played here I've given my best, and that's the only thing that I can try.
"I'll never say that I didn't work hard enough or didn't practise hard enough. I don't think I'll feel sorry about anything when I leave.
"I think the first year that I played here, I was here just to take it all in. I don't even think I was here to play tennis. I needed to just open my eyes and look at everything.
"It's so new. It was such an amazing thing. To me this was like Disneyland to another child. It was such a beautiful thing.
"I have a lot of good memories. It's a nice place to go back to every year."
Old boys' club at the All England Club
Roger Federer paid tribute to the veterans in the fourth-round draw as five men over the age of 30, the most since 1975, made it through to the second week.
Federer, 30, beat 31-year-old Xavier Malisse in the last 16 and will now play another 30-year-old, Mikhail Youzhny, for a place in the semi-final.
At the start of Wimbledon last Monday, there were 34 men aged 30 or over in a main draw of 128 which was an Open era record for the tournament.
"We had a good generation. Think back 10 years ago when we were all coming through. My junior year back in 1998 was unbelievable," said Federer.
"Whoever I played in almost every match made it on tour after that. I'm happy that I'm not the only guy left.
"I see familiar faces left and right everywhere I go at every tournament."
Game, upset and match
Maria Sharapova reflected on the unpredictable nature of the women's game after her straight-sets defeat by Sabine Lisicki.
The number one seed's exit came after Rafael Nadal was beaten by world number 100 Lukas Rosol in the men's draw.
"We never really underestimate any opponents. If people are going to be considered favourites in match-ups and tournaments, obviously everyone's job here is to have those storylines.
"At the end of the day, the reason we start at the first round is you have to go through all those opponents to get to the final stage of a tournament, whether it's a Grand Slam or the middle of nowhere. That's the reason we go out and play.
"It could be the number one seed against someone that's, you know, come out of the woods. It doesn't matter, you still have to go and play and win.
"On any given day, of course there can be an upset. That's the sport. That's why we watch."