Roger Federer wants major titles more than top ranking
By David Ornstein
BBC Sport at Wimbledon
Last updated on .From the section Tennis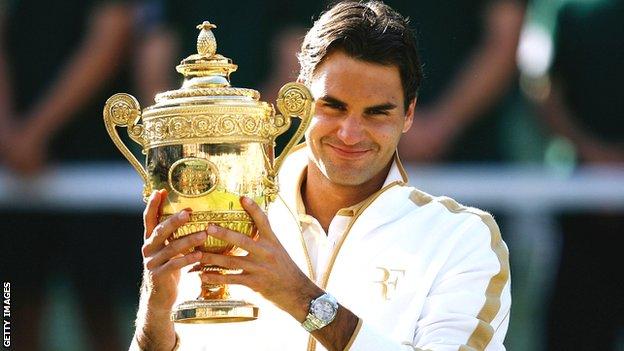 Roger Federer says adding to his haul of 16 Grand Slam titles is now more important to him than returning to number one in the world.
The 30-year-old has spent a total of 285 weeks atop the rankings in his career, but currently sits third behind Novak Djokovic and Rafael Nadal.
"Number one is a nice feeling," said the Swiss. "Every day when you wake up, you know you're the best at something.
"But at this moment, it's the trophies that excite you from day to day."
Federer led the rankings for an unprecedented 237 weeks before Nadal replaced him in August 2008.
He added another 48 weeks between July 2009 and June 2010, only for the Spaniard to step up again.
Nadal and Djokovic have since dominated, leaving Federer just short of Pete Sampras's 286-week cumulative record.
"I've been at number one in the past and that felt great," he explained. "But trophies are what really gets you going.
"They go hand in hand. When you win a lot of titles you're going to be high up the rankings, which is important for your seeding and so forth. But it's really titles that interest you the most."
Federer begins his 14th consecutive Wimbledon campaign against Albert Ramos of Spain on Monday.
The third seed is aiming to equal Sampras's record of seven triumphs at the All England Club and if he succeeds, it will be his first major success since the 2010 Australian Open.
"I am dreaming of the title," Federer admitted. "I've reached the quarter-finals in the last two years and I want to do better. A seventh title would be amazing. Tying Pete would be absolutely fantastic.
"I feel everything is working in my game. Physically, I have no lingering injuries. I'm in a good spot right now. My confidence is very good. I've won many tournaments in the last year so I feel perfect in that regard.
"I'm match fit and I think that's key going into a Grand Slam. The hunger is big - I'm hungry and motivated to be playing this high level, wanting to win the big tournaments and this is one of them."
World number two Nadal said he relished the chance to take on Federer and Djokovic again.
"I feel very lucky to be part of these two rivalries," he said.
"I think it is something that brings special motivation to my game and motivates me to keep improving my tennis.
"If you are not able to improve your level of tennis you are dead."
And Nadal said a reliable, controlled serve had been a key factor in his two Wimbledon titles.
He added: "In the past, my best point on grass was that my serve was regular.
"I was probably not serving bombs, because I am not that kind of player, but playing very solidly, with high percentages, and enough speed.
"Then my movement and my decision-making on this surface has been good over the last couple years."