Andy Murray column: I'm preparing for biggest summer of my career
By Andy Murray
British number one
Last updated on .From the section Tennis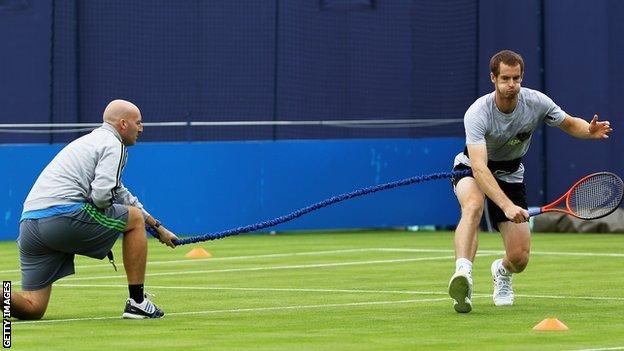 After losing to David Ferrer at the French Open last week, I needed a couple of days off just to rest the body and mind - and get ready for the grass.
Now I can't wait for the grass-court leg of the season to get started, so long as this rain holds off.
I returned from Paris on Thursday, watched the start of Euro 2012 on Friday and began training again on Saturday ahead of the Aegon Championships at Queen's.
With Wimbledon followed by the Olympics - which is huge in tennis now - and then the US Open, it's not only the biggest summer of my career but also of the other leading players' careers too.
How everybody prepares and rests is crucial. You need to recover from the big events but do enough work going into the next one. It's vital to get that right over the next few months.
While I would obviously like to have done better in Paris, I did play some good tennis and, considering how the tournament started for me, it ended up OK.
But I need to find a way to do better there and compete with the top three players, who are some of the greatest players to have ever played the game. That's what I'm competing against and that's the level I need to get to on a consistent basis.
The only way I can do that is by working hard, going in the gym and spending a lot of time on the court, but I will leave no stone unturned!
My motivation is there and I've played some of the best tennis of my career at Queen's and Wimbledon, so this is an important period coming up.
The atmosphere is always great at both tournaments and playing in front of a supportive crowd helps in every sport. I'm looking forward to it and hoping I can do a good job for the fans.
It will help to have my coach Ivan Lendl here for the whole of the grass-court stretch. We watched the Czech Republic v Russia Euro 2012 game together on Friday and he's good company.
He loves sport, we both do. I probably enjoy football more than him but he's a very passionate Czech and I don't think he was best pleased with their performance!
These Euros will be very interesting and we've already seen a surprise with the Netherlands losing to Denmark, and Russia looking pretty strong.
That said, I have a feeling Germany will do well. They are a young team but those guys have all played at the highest level, and they have a lot of experience in there.
I'll try to watch all the games - I enjoy the group stage a lot because there are games each day which is more fun when you're doing Fantasy Football.
I'm in a league with British doubles player Colin Fleming, some friends and the guys I work with - I managed to get Mario Gomez, Karim Benzema, Steven Gerrard and Robin van Persie, so there should be some goals in there.
It's a good team but you never know because Group A, for instance, looks like it could have some high-scoring games and annoyingly I don't have anyone from that group.
It helps you relax to have an interest outside tennis, but my real focus this week is Queen's, and as I'm the defending champion I want to get off to a good start.
I've got a tough first match against Nicolas Mahut or Guillermo Garcia-Lopez - I'll try to get through that and take it from there.