Maria Sharapova savours French Open win over Sara Errani
Last updated on .From the section Tennis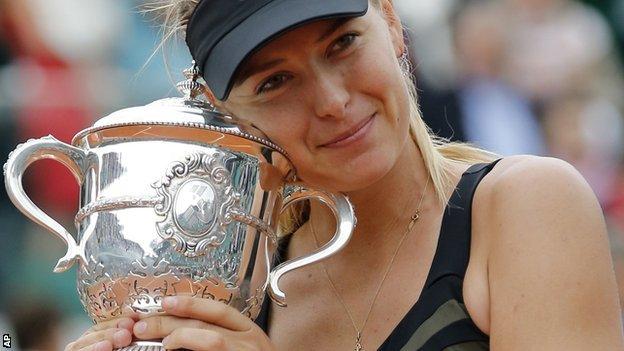 Maria Sharapova says winning the French Open was a bigger achievement than claiming her first Grand Slam at Wimbledon as a 17-year-old in 2004.
"When I won Wimbledon at 17, I thought that would be the most cherished moment of my career," she said.
"But when I fell to me knees today on the court I realised that winning here was extremely special, even more so."
Sharapova's win at Roland Garros meant she became the 10th woman to win all four Grand Slams in her career, as she added to her Wimbledon crown, US Open win in 2006 and 2008 Australian Open victory.
She has also lifted herself to world number one after dropping to 126 following her shoulder injury.
"It's been a long journey. I started from such a young age, but I'm not done yet, far from it," said the Russian.
"I have a lot more to achieve, I always believed in my game and that I could get better on grass, clay, cement.
"No matter how tough it was or if people didn't believe in me, I never listened. I only listened to my own voice which told me that I would succeed again and I did.
"No matter how many punches I took, I didn't care. I always got back up again. There were no excuses - I love this work of playing tennis.
"I could have said I have had enough when I was injured. I could have said I have enough money and fame, but when your love for the sport is bigger than those things, then you still get up to practice when it's freezing or when others have no belief."
Italian Errani will move into the top 10 in the world rankings following her surprise run to the French Open final, and she believes a mixture of nerves and Sharapova's big-hitting resulted in her defeat.
"I was nervous, of course. In the beginning the court was full, but was very nice at the same time," she said.
"I started bad. That is what I don't like, because maybe for the tension, for everything.
"And with this player, if you give her some games like this in the beginning, of course they are more relaxed."
Errani added: "I couldn't arrive to play long points like I wanted to play, so it was difficult for me."