GB captain Judy Murray hopes for home Fed Cup tie
By Piers Newbery
BBC Sport
Last updated on .From the section Tennis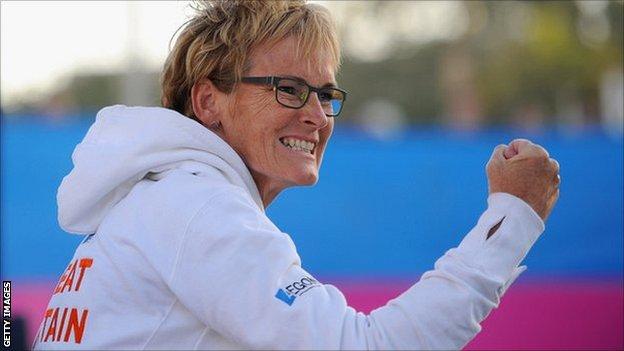 Captain Judy Murray hopes to capitalise on Britain's successful Fed Cup week by drawing a first home tie in 19 years.
The team of Elena Baltacha, Anne Keothavong, Heather Watson and Laura Robson beat Austria 2-0 on Saturday to secure a World Group II play-off.
Britain will face France, Switzerland, Sweden or Argentina in April.
"We would love a home tie to experience the type of atmosphere the guys get in Davis Cup," Murray told BBC Sport.
"It would be a great showcase for the British women and a chance to get more girls into our sport."
The last time Britain's women played a home tie was in 1993, when the team of Clare Wood, Julie Salmon, Monique Javer and Amanda Grunfeld defeated Turkey 3-0 in Nottingham.
For the last eight years they have competed in the gruelling Euro/Africa Zone Group I - a 15-team event played over four days with only two qualifying spots.
But victories over Portugal, Netherlands, hosts Israel and Austria in Eilat gave Murray the perfect start to her Fed Cup captaincy.
Murray travelled to New Zealand and Australia in January to support her players and scout opponents - "I was aware that I didn't know our girls that well; I didn't know the women's game very well" - and will head to Indian Wells next month to do the same.
And after the victory against Austria, she added: "The biggest thing is the team spirit. We had so much fun, everyone was really pulling for each other on and off the court. It's an exciting time for women's tennis in Britain.
"Anne [Keothavong] and Bally [Baltacha] are playing the best tennis of their careers and they still have a lot of improvements they can make, which is good.
"Obviously the two youngsters coming through, Heather [Watson] and Laura [Robson], are very exciting prospects; very different from each other in the way that they play but great personalities with very bright futures ahead of them.
"To have four players with that kind of strength in depth helped us in this event because, although we haven't got a top 20 or top 10 player, we have four players who are fairly similarly matched. To be able to spread two singles and a doubles across all four players means they don't get tired and we can all get behind each other."
The draw for the World Group II play-offs takes place on 14 February, with the ties to be played on 21-22 April.
"There are obviously some that we would rather play than others," said Murray. "I hope we get a home tie but I won't be too worried about the draw.
"It's quite a short turnaround between February and playing in April, and we're not overdosed with purpose-built tennis arenas. I don't think we can afford to play outdoors in April if we get a home tie, we'll have to go indoors somewhere, and the bigger venues are usually booked up well in advance. We may not be spoilt for choice but we'll see what's available and make a good call."
Murray's appointment as Fed Cup captain in December certainly brought a great deal more attention to Britain's Euro/Africa Zone campaign than in previous years.
"I didn't mean to do that but there was a lot of interest, that's for sure, which I suppose is good for the event and good for our team.
"Women's tennis compared to the men's tends to get much less recognition and attention. I wasn't as nervous as I thought I might be because we prepared really well and also to be able to sit with the girls at the changeover helped.
"The tactical side of tennis has always been the thing that has interested me and I think I probably got better at doing the chats on the bench as the week went on. I wasn't too sure at the start.
"Everybody responds in different ways and that's why it was so good to get to know the players before we got into the competition. You have to know when to speak and when to shut up."