Novak Djokovic sets up Andy Murray semi-final at Australian Open
Last updated on .From the section Tennis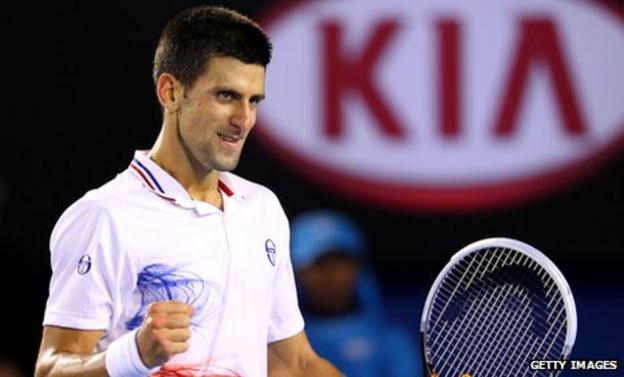 Defending champion Novak Djokovic has revealed he had to overcome breathing problems to beat David Ferrer in the Australian Open quarter-final.
The world number one beat the plucky Spaniard 6-4 7-6 (7-4) 6-1 to set up a last-four clash against Britain's Andy Murray on Friday around 0830 GMT.
It was far from plain sailing for the Serbian, who also appeared to struggle with a hamstring injury.
But he said: "I have no concerns of recovering for the next match."
Djokovic will face number four seed Murray, who beat Japan's Kei Nishikori in straight sets earlier on Wednesday morning, in a rematch of last year's final.
Murray has almost effortlessly powered through the first five rounds and Djokovic, after his own gutsy win against Ferrer, admitted he has been impressed by the Scot's physical fitness.
But he insists he is not overly concerned by the problems that hampered him in the three-hour contest against Ferrer.
"I found it very difficult after a long time to breathe because I felt the whole day my nose was closed a little bit," said Djokovic.
"I just wasn't able to get enough oxygen.
"I needed more time, which I didn't have - but in these conditions, at this stage of the tournament, when you're playing someone like David, your physical strength and endurance come into question.
"But I am not too concerned about that at all. I'm really fit."
Djokovic outplayed Murray in Melbourne 12 months ago to condemn the British number one to his third Grand Slam final defeat with a convincing straight-sets victory.
But the 24-year-old believes he must play even better to prevent Murray earning his first major title.
He said: "Andy is playing great. He has showed he is in great shape and he has [new coach] Ivan Lendl on his side.
"You can feel he is physically fit and eager to win his first Grand Slam."
Djokovic breezed through the opening stages of the tournament, having dropped only one set which came in the previous round against home favourite Lleyton Hewitt.
He squandered six opportunities to break in the Spaniard's first two service games before ending Ferrer's resistance with a stunning cross-court winner to take a 3-2 lead.
It provided the platform he needed to go on and clinch the first set but he appeared to be struggling with a hamstring problem in the second as Ferrer led 4-2 in the tie-break.
However, Djokovic found the mental and physical strength to hit back with five straight winners to open up a commanding lead.
It seemed to knock the stuffing out of Ferrer, , as the champion upped the tempo and swiftly wrapped up the match.