Roger Federer beats Kei Nishikori to win Swiss Indoors
Last updated on .From the section Tennis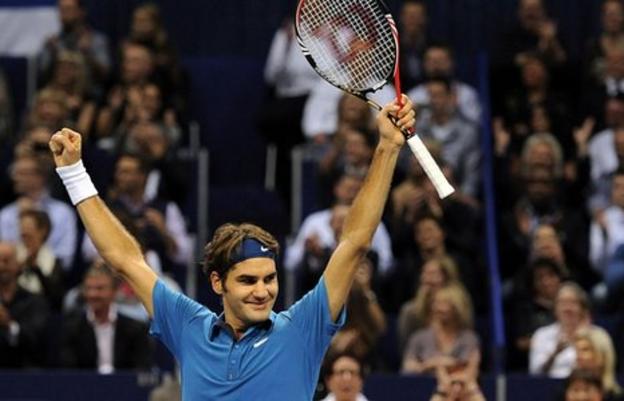 Roger Federer beat Japan's Kei Nishikori in the Swiss Indoors final to win only his second title of 2011.
Federer, 30, triumphed 6-1 6-3 over the 32nd-ranked wildcard, who shocked world number one Novak Djokovic in the semi.
Swiss world number four Federer was playing in his 98th ATP singles final, while Nishikori was in his third.
"It's great to win at home again," said Federer. "Kei put up a good fight. I knew when I hit with him as a teenager that he could have a good future."
Federer, the former world number one, won his home title in Basle for the fifth time in six years.
The 16-time Grand Slam champion, who was playing in his first final since losing to Rafael Nadal in the French Open in June, dropped just one point on serve in a 28-minute opening set, while Nishikori took only six points off Federer's serve in the entire match.
Federer, who was playing in his first singles tournament since the US Open in September, admits he is in good spirits going into this week's Paris Masters.
"It was a perfect match for me. Now I have big hopes for Paris and London [the ATP Tour Finals].
"It's been a long time since I felt so good physically.
"I'm feeling ready and fit and fired up, that's how it's supposed to be. This is the last push of the season and I'm ready for it."
Of Federer's main rivals, Djokovic re-injured his right shoulder against Nishikori, while world number two Nadal has already pulled out of Paris with an unspecified injury.
Briton Andy Murray, ranked third, withdrew from the Basle event with a strain in his right gluteal muscle.
Federer added: "It's been a great start to the autumn, I think my pause paid off. I've got different priorities than some of the younger guys who are ranked around me.
"I needed to take that time off, it was best for my mind, my body, my family and my fitness. There is a lot of tennis to be played until the end of the season and it will be packed in early 2012.
"I want to be a danger everywhere that I play."
Nishikori, who will go to Paris with a special exemption, played Federer for the first time in his career and said it had been an ambition of his.
"He didn't give me a chance, he was too good for me today," said Nishikori, 21, who inflicted only the fourth defeat of the season on Djokovic.