WTA Championships: Petra Kvitova beats Victoria Azarenka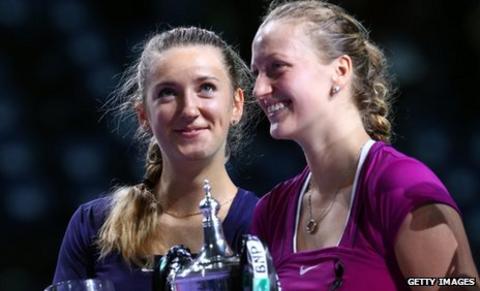 Wimbledon champion Petra Kvitova clinched the WTA Championships with a battling 7-5 4-6 6-3 victory over Victoria Azarenka in Istanbul.
Kvitova swept into a 5-0 lead but a resurgent Azarenka forced her to dig deep to earn the opener before winning the tussle for the second set.
But Kvitova recovered from 0-40 adrift in the first game of the decider, broke in the next and did not look back.
The victory moves the Czech ahead of Maria Sharapova to second in the world.
"When I started this season we didn't have a goal," Kvitova said after her win.
"We just wanted to improve my game and now I am number two and Wimbledon champion. It is just a dream."
The 21-year-old will also take home $1.75m (£1.1m) in prize money after rounding off an excellent season with a clean sweep of her round-robin matches en route to the final.
It is her sixth title of the season, equalling the haul of Denmark's Caroline Wozniacki - the one woman ahead of her in the rankings.
Kvitova defeated Azarenka in the Wimbledon semi-finals and in the Istanbul final, just as in SW19, she started at a terrific pace that gave the Belarussian no time to settle.
She slapped away a winning forehand return off Azarenka's very first serve and another down the line sealed a break at the first opportunity for 2-0.
Azarenka seemed dazed and resigned to the loss of the opener as Kvitova, with her fierce forehand firing, ripped through her fifth successive game with a combination of touch and power.
But an extraordinary change of momentum then threw what had seemed a foregone conclusion into doubt.
The early fluency had seeped away from Kvitova's game as she suffered a break to love in the ninth game, before Azarenka served out to achieve parity.
But, while not fully recovering her initial form, Kvitova ground out back-to-back games to stop the comeback and take a 53-minute opener on her fifth set point.
The second set proved a far more even fight as Azarenka continued to attack Kvitova's wavering serve.
After a break by Azarenka in the third game was immediately cancelled out by her opponent, the Belarussian broke again before pulling two games clear with a determined hold.
It was a lead she clung to for the rest of the set, and a dipping forehand that just touched the line - and survived Kvitova's challenge - closed out the 10th game and levelled the match at 1-1.
The momentum swung decisively back in Kvitova's favour in an enthralling first two games of the final set, however.
A scream of delight from the left-hander greeted an improbable service hold in the opening game of the set, before Azarenka was left clutching her face in horror after pushing the ball long at break point down in the second game, with an open court in front of her.
Kvitova, who became increasingly animated as she closed in on victory, was rarely threatened on her serve thereafter and her opponent dumped a backhand volley into the net on match point to give the Czech the title after nearly two and a half hours.
"It's hard to lose, but I'm glad I lost to such a champion who deserved to win," said Azarenka. "Petra was amazing today. She really did a great job."