US Open 2011: Quotes of the day
Last updated on .From the section Tennis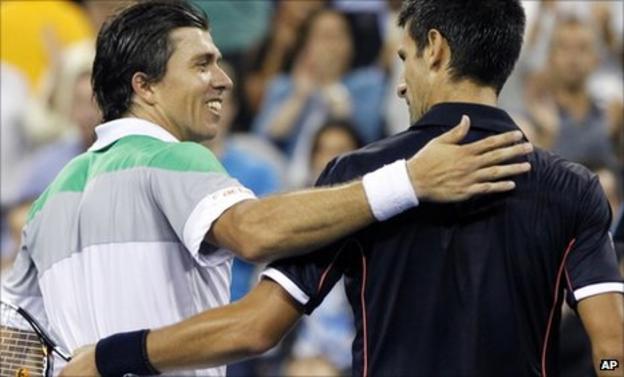 "One of the guys actually on the way out said: 'Hey, listen, I paid 100 bucks. You're staying an hour and a half on the court. That's a lot to pay for a ticket. Give me something so I get back home with a happy face. Give me a racquet or something." Novak Djokovic learns there is a downside to being able to win in 90 minutes.
"This guy is from another planet." Carlos Berlocq finds playing Djokovic an extra-terrestrial experience.
"Now I can go to bed...... Goodnight tweeps x" Rory McIlroy's tweet suspiciously soon after Caroline Wozniacki's match finishes.
"As long as we both keep our feet on the ground and we both have our careers, which are important to us, I think it's working well." Meanwhile, girlfriend Wozniacki is on message in New York.
"I think officials should and could be more strict. I've felt like this last six months they've been trying to speed up the warm-ups. I think that's good, because I think it's a bit of a waste of time, to be quite honest, this whole pre warm-up and stuff." Roger Federer is keen to get a move on.
"He hasn't given me one yet. If he doesn't, I'll go buy one." Federer is asked if he's read Rafael Nadal's new book.
"If I feel like dancing, I dance. If I don't feel like it, I don't. I don't care what other people say about me, so I guess that's being me." Germany's Andrea Petkovic describes the thinking, or lack of it, behind her post-match celebratory dance.
"Of course. My mum is here. It's not often she comes to a tournament with me. I lost but that's life." Gael Monfils is asked if he will still go out and celebrate his 25th birthday after losing to Juan Carlos Ferrero.
"We're all injured pretty much. I'm serving at 50%. We all have something." Jelena Dokic is not overflowing with sympathy for the injured Jelena Jankovic after losing to her.
"I know she's a fighter and she's really strong. She's great. I think she's really happy now that she knows what it is after all this time. I think, if anything, it's going to help her now to treat it and go forward." Serena Williams on sister, Venus, who has been diagnosed with Sjogren's Syndrome.
"That was like so long ago. I've died basically and come back and nobody's really writing or thinking about that. I was focused with just making it to the next day and it's just a blessing really for me to be here." Serena is asked about her last US Open two years ago when she was fined for abusing an official.
"You know, if you count up all the months I've missed due to injuries or surgeries that I've had, I'm probably 29 years old really." Tommy Haas, aged 33, tries to argue his way back into his twenties.