Baltacha ponders retiring after London 2012 Olympics
By Andy Burke
BBC Scotland Sport
Last updated on .From the section Tennis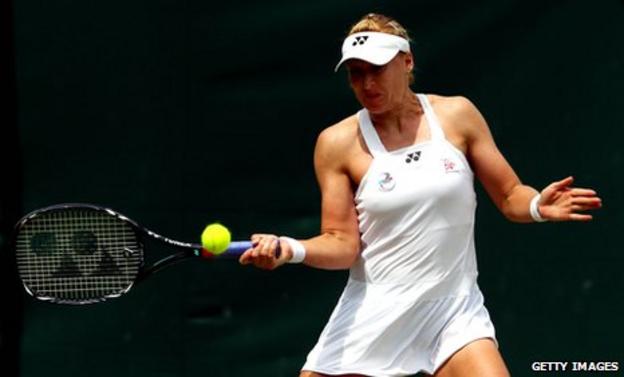 Elena Baltacha may quit tennis after next year's Olympic Games in London.
The British number one has suffered injury problems throughout her career, and feels that the Games would be a good time to call it a day.
"I want to get to the Olympics and then maybe retire, I've been playing tennis for such a long time now," she said.
"I'm 28 this year, and sometimes I wake up and wonder how much more my body can take; if I'm struggling with injuries then I'm not going to carry on."
Baltacha was diagnosed with the liver condition primary sclerosing cholangitis when aged 19, and in 2006 she underwent keyhole surgery on a prolapsed disc in her back.
"With my history, with the back surgery and getting niggles here and there all the time, it [the Olympics] is something that gives me something to work towards."
Despite these problems, Baltacha has not ruled out entirely the prospect of playing on after the London Games.
"You never know, maybe I'll get to the Olympics and I'm still flying, my ranking is the best it has ever been in my career and my body feels great then I'll probably carry on," she told BBC Scotland.
"If I still love the game I'll definitely carry on."
The world number 60 says that despite the four major championships on offer every season being the top priority for tennis players, the Olympics has become a highly respected prize in the game.
"I think now that tennis has been in the Olympics for quite a few years, players are taking it a lot more seriously," Baltacha said.
"Especially with London coming up, I hear a lot of players talking about it and how amazing it's going to be."
Baltacha also said that although playing doubles or mixed doubles is not paramount in her thoughts, if the opportunity to partner Andy Murray at the Games came along she would jump at the chance.
"It would be unbelievable to play mixed doubles with Andy. It would be absolutely fantastic," she said.
"If I am going to be retiring after the Olympics then that is something that I'll definitely think about, playing doubles and mixed doubles.
"I played mixed doubles at Wimbledon with Ken Skupski and I really enjoyed that.
"The one downside to playing doubles for me is that I always seem to get injured. That extra match for me means my back might stiffen up."