Wimbledon 2011: Novak Djokovic's recipe for success
By David Ornstein
BBC Sport at Wimbledon
Last updated on .From the section Tennis
Novak Djokovic's progress to the Wimbledon final means he will become the new world number one when the next ATP rankings are released on Monday.
The 24-year-old's rise to the summit of men's tennis owes much to an incredible 43-match unbeaten streak, which spanned six months, seven tournaments and started in December last year.
It came to an end with defeat by Roger Federer at the French Open, but marked a remarkable turnaround for a player who struggled badly for much of 2010 - winning only two of 19 tournaments all season.
Djokovic's SW19 run has extended his 2011 win-loss record to 48-1 after his four-set victory over Rafael Nadal in Sunday's showpiece.
But what sparked the improvement and why is he so much better in 2011? BBC Sport spoke to Marian Vajda, a former world number 34 and the Serbian's coach since 2006.
HOW DO YOU REFLECT ON NOVAK'S WINNING SEQUENCE?
"Special, wonderful, amazing - there aren't enough superlatives to describe how this year has been for him, and for us as his team. It shows we're doing a good job and we should celebrate and admire what has happened. Since I started working with him in 2006 this has been his goal.
"He found a way to play the guys, learned how to beat them, how to prepare properly, how to handle the pressure. It's a process. Before, he had lapses, nerves, we could see he often couldn't handle the pressure. Physically he was not good. Now, he's 24 years old, much stronger and his talent is coming to the surface.
"Unfortunately the loss to Federer ended his unbeaten run and stopped him from becoming world number one, so that was bitter and took away some mental strength. But my role as his coach was to get him to try to forget this defeat and prepare as well as possible for Wimbledon."
WHAT HAS HE DONE DIFFERENTLY TO MAKE SUCH A DRASTIC STEP UP?
"There was a tough period in his tennis career when, in 2009, he decided he wanted to switch to working with two coaches. Todd Martin came in, changed a couple of techniques and his serve was not working well.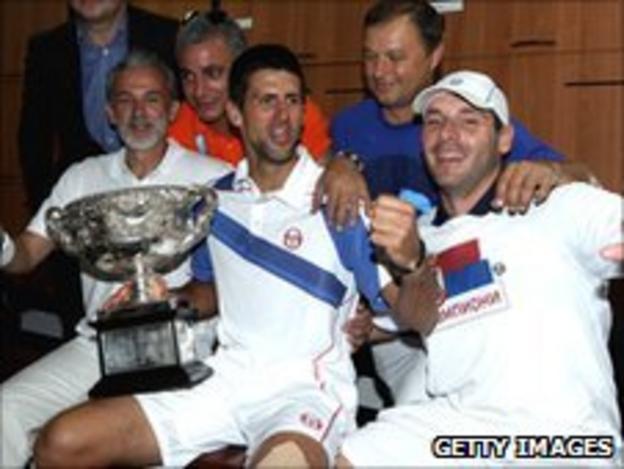 "At the start of 2010, he was in serious trouble. He managed to win a few matches and stay in the world's top three, but he had no serve. He had to get back to his old routines. In men's tennis, the serve is the number one issue. We worked hard and about 12 months ago he started to improve, but he was still far away from where he is now.
"You can see his serve is much better and he is so confident now that he tends to win the most important points - break points, match points etc. At the start of this year he began winning matches in straight sets, dropping very few games and even in the giant battles against Nadal and Federer he was able to dominate, which rarely happened in 2010."
WAS THERE ANYTHING ELSE YOU PAID SPECIAL ATTENTION TO?
"Yes, we also worked hard on the physical side. Novak needed to improve his endurance. He was not able to stay on the court for a long time. He would manage five sets but it would take a lot of energy away from him for the next match. Now he's able to maintain that because he's far better technically and physically.
"We did a lot of running and a bike work but, in addition, he improved his health. We found he had a gluten allergy and since he's cut that out of his diet, he is able to breathe better and take in more oxygen. His body is much healthier and this is the key.
"But most of all, when you have a good serve you shorten games and hold easily - and that makes you stronger mentally. There are still areas to work on - he can improve his approach to and position at the net - but he's getting better and better."
HOW PLEASED WERE YOU WITH HIS PREPARATION FOR WIMBLEDON?
"Novak recovered really well from Paris. He went straight to Monte Carlo to be with his girlfriend Jelena for a couple of days - to have some time off, relax, do different things that would take his mind completely away from tennis.
"He went to the beach, did some swimming, saw his family and helped Jelena ahead of her graduation for an economics diploma on Sunday 12 June. Then we came over and practised at Aorangi for the first time on Monday 13 June.
"From the moment he stepped on to the grass he looked unbelievable. He played two practice sets against Richard Gasquet at an incredibly high level, as if Wimbledon was only two days away.
"In his only pre-Wimbledon warm-up match, against Gilles Simon, it was scary how good he was. He was relaxed and looking happier on grass than ever before. That made me feel pretty confident.
"The Federer defeat was bitter but champions like Novak realise that it's no shame to lose matches like that and unbeaten runs have to come to an end. Emotionally it stayed with him for a while, but he's experienced enough to get over it and regain his focus. To become world number one was something we were all focused on achieving. We prepared in a very professional way. He was ready.
WHY IS THIS TOURNAMENT SO SPECIAL TO NOVAK?
"It's a tradition. As a young kid, everyone watches Wimbledon. When I was a young kid I remember when we didn't have that much sport on TV, but we always had Wimbledon.
"You want to reach for that trophy, you want to see it high above your shoulders. This is the most exciting moment of your career. You work for this. It's the biggest tournament in the world. The history, the tradition, the champions. It's unique."
DID YOU FEEL HE ARRIVED AT SW19 UNDER LESS PRESSURE?
"Yes, and I was really pleased about that. The unbeaten run coming to an end released him. This was the tournament for Andy Murray, for Federer, for Rafael Nadal. Rafa was defending champion and had to defend all his ranking points from last year.
"Novak recovered well and came here in good condition, but we knew the relative lack of pressure could help him go far."