Wimbledon 2011: Pippa Horn targets return to Wimbledon
By Phil Maiden
BBC Sport at Wimbledon
Last updated on .From the section Tennis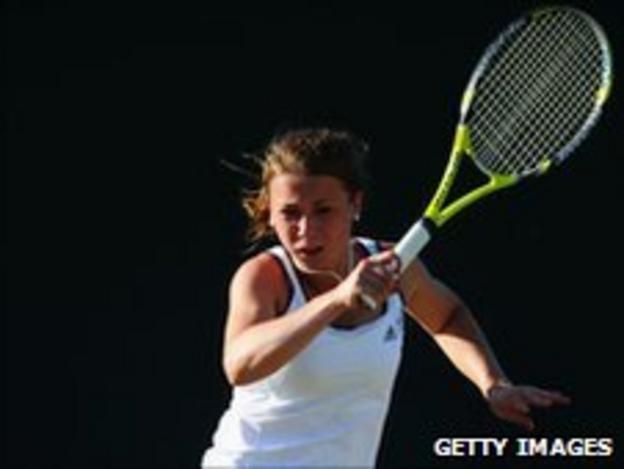 Wimbledon debutant Pippa Horn is aiming to return next year after losing her girls' doubles first round match.
Horne, who also lost in the first round of the girls' singles, told BBC Sport: "I got a lot of experience from this and hopefully I'll come back next year.
"I have to build up my ranking and next year get there as of right because this year I got wildcards."
She added: "Even if I never play another Wimbledon then it will definitely be a great memory.
"From Wimbledon I'll take lots of experience but I know not every tournament's going to be like this.
"Even juniors get treated like pros. Just wandering around on middle Sunday everyone's practising and you are so close to the pros it's unbelievable."
Horn, from Norfolk, was happy with the performance of her and partner Askew in their doubles match despite going down in two sets, 7-5 6-4.
"It was a good score," she said. "They were sixth seeds and one of them's a good doubles player, she's got some really good results.
"Considering me and Beth have only played together a couple of times I felt really good. We had our chances, definitely first set, but that's what happens I guess.
"I think that experience they've got, having played more Wimbledons and doubles than us, is really what won it for them.
"At this level experience is all it comes down to. You can't afford to make any mistakes and it's how you perfrom when it matters."