Wimbledon 2011: John Isner beats Nicolas Mahut in three sets
By Mike Henson
BBC Sport at Wimbledon
Last updated on .From the section Tennis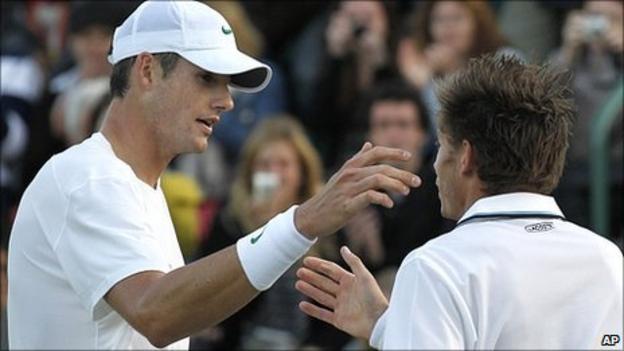 John Isner ensured there would be no repeat of his marathon 2010 match with Nicolas Mahut when he won their rematch in just two hours and three minutes.
The American triumphed 7-6 (7-4) 6-2 7-6 (8-6) on the new Court Three.
"It wasn't easy," he said. "I was happy about the way it went and I was telling myself if I lost the first set the chances were we wouldn't finish.
"It is a nice feeling. I don't have to sleep on finishing it off. It was never going to go as long as last year."
Isner added that Mahut had proved his fighting spirit again after last year's epic encounter, which the Frenchman lost 70-68 in the final set of a match played over three days.
"Nothing is going to live up to that match," said Isner.
"He has nothing to hang his head about. He fought just as hard today and I think maybe his knee was bothering him a bit.
"I only spoke to him at the net since today's win. I said, 'Good match' and he said, 'Hey buddy, I want to see you in the second week'".
The odds of the pair being drawn together again in the first round after had been calculated as one in 13,871.
The possibility of the players producing a match of the same extraordinary proportions as last year was equally slim, but the duo matched each other service game for service game in the opening set.
The friendship that has grown up between the players after numerous media appearances in the wake of last year's match was evident in Isner's swift apology and its acceptance when his over-hit serve in the second game almost hit Mahut on the full.
It set the tone for the opener as Mahut gamely chased Isner's thumping groundstrokes and attempted to use craft and spin to counter a more direct game.
But Isner showed a deft touch of his own at the net as he earned two breaks in the first-set shoot-out that Mahut never looked like recovering.
Mahut's attempts to channel his play onto Isner's weaker backhand wing in the second set were less successful.
When he did choose to play to right-hander Isner's favoured side, Mahut's understandably went for clean winners.
The tactic was behind Mahut's overcooking of a shot down the line to fall a break behind in the fourth game of the second set.
The bounce and pace of 6ft 9in Isner's serve ensured it would be tricky to overhaul and Mahut slipped two sets behind as his dogged scurrying failed to repel a third set point and another break.
The French fans in the crowd were suddenly vocal when their man produced a sudden break to love in the third game of the final set, but it proved a false dawn.
Mahut clung to his advantage for two service games before Isner broke back to 4-4 with a fine block return.
The end could have arrived sooner as a frustrated Isner was denied two match points by Hawk Eye at 15-30 and 6-5 in the lead.
In the tie-break Isner found the net with a backhand volley to allow Mahut to wriggle off the hook on his first match point.
But the 29-year-old, Isner's elder by three years, could not make the most of his reprieve and floated long to fold in a match more than nine hours shorter than their previous meeting at SW19.