Novak Djokovic set for Wimbledon in 'best period of career'
By David Ornstein
BBC Sport
Last updated on .From the section Tennis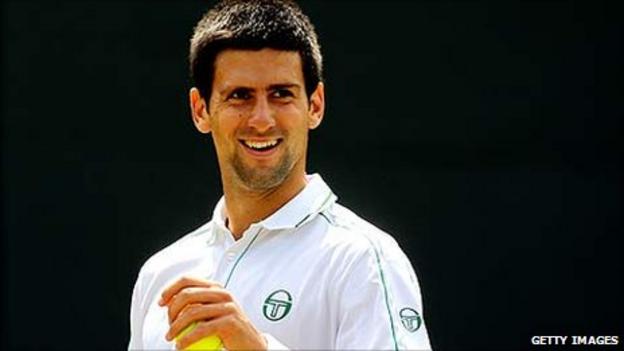 It may have lasted just 47 minutes but the outcome of Novak Djokovic's one and only grass-court match before Wimbledon spoke volumes of his readiness for SW19.
The world number two was playing in the Boodles exhibition event at Stoke Park, Buckinghamshire, but there was nothing friendly about the way he dismantled Simon, seeded 16th for the All England Club.
He conceded only seven points on serve and tore his opponent's delivery to shreds with a succession of stunning groundstrokes and the occasional foray to the net.
Immediately after leaving the court, Djokovic was greeted by a gaggle of reporters and he had barely broken sweat.
He was quick to dismiss any concerns about his fitness following the Federer loss, which ended an amazing 43-match winning streak dating back to 5 December 2010, and claimed this was the best he had ever felt ahead of Wimbledon.
"It was great, tennis-wise, it was a fantastic match," said the beaming 24-year-old Serbian. "It is still a preparation period for all of us, we're all getting ready for next week.
"This is the highest I've been in the rankings and I'm definitely very satisfied with the way I've played in the last six, seven months - it has been the best period of my career.
"I'm just trying to keep the momentum, keep playing well. The grass-court season is very short for all of us so we are trying to get ready for Wimbledon, which is the most important tournament."
Djokovic recently stated "my goal is to be world number one but my dream is to win Wimbledon" and it is possible that he could achieve both by the end of Wimbledon.
The 6ft 2in right-hander withdrew from the Aegon Championships at Queen's to rest a knee problem and used the time off to relax with girlfriend Jelena Ristic at their home in Monte Carlo and reflect on that sensational unbeaten sequence.
Djokovic fell one victory short of John McEnroe's record start to a season of 42 matches in 1984, winning seven tournaments including January's Australian Open.
"It was a long run and it was a run that I definitely didn't expect," he explained. "But it's really about having the right mental approach and I was really trying to stay focused and stay dedicated to each match that I played.
"Seven titles is already an incredible achievement for only half a year and I played a great tournament at Roland Garros. Unfortunately I lost in the semi-finals but I played a great match against Federer."
Djokovic sees Federer, third seed with 16 Grand Slam titles, and world number one Rafael Nadal as the favourites for Wimbledon, but is confident he and Britain's Andy Murray can launch a strong challenge.
"Considering the careers they've had and their success at Wimbledon, Nadal and Federer are definitely two of the favourites," Djokovic commented.
"But I think nowadays we have more players contending for the title in two weeks and it's going to be very interesting to see who's going to come out on top.
"Nadal and Federer always raise their level of performance at the Grand Slams. They are great champions. The results that they have achieved in the last five, six years say everything.
"But now I think there is Murray, myself and a couple more players believing that they can win against them."
Murray and Djokovic were born seven days apart, came through the junior ranks together and have remained close friends despite their rivalry at the summit of men's tennis.
World number four Murray will once again carry the hopes of the nation as he seeks to end Britain's 75-year wait for a first male Grand Slam champion since Fred Perry, and Djokovic believes the Scot stands an excellent chance.
"He is definitely right there, right behind Federer and Nadal, and he plays really well at Wimbledon," said the Serbian.
"It's not easy for him, with all the pressure that he has, but I think he's a more mature player than he was last year, as is true in my case, so I'm sure he's going to do everything to win."
Just as Murray will come under the microscope in the next two weeks, so will British tennis.
Despite the huge financial resources available to the Lawn Tennis Association, the state-of-art facilities on offer at the National Tennis Centre and the staging of its own major tournament, Britain currently has only one man and two women in the world's top 100.
Serbia, by contrast, enjoys no such luxuries yet boasts three men in the top 30, three women in the top 60, three Grand Slam singles triumphs since 2008 and the 2010 Davis Cup.
"I'm not involved in the British tennis system, but what I can say from my country and my own experience is that it all comes down to mental strength, desire to succeed and this hunger to become a professional tennis player, to become the best," Djokovic argued.
"We didn't have in our country a tennis system that brought us up but we were all individually supported by our family and from those hard times we all took the right mental approach, the right values, we appreciate things in life much more and we know that we have to work for everything.
"But I'm sure Britain is going to get on the right path because it is one of the countries that has the longest tradition in this sport. You guys have all the facilities you need, it's just a matter of time and patience."
On current form, Djokovic has no such problems.