French Open: Andy Murray's column
By Andy Murray
British number one
Last updated on .From the section Tennis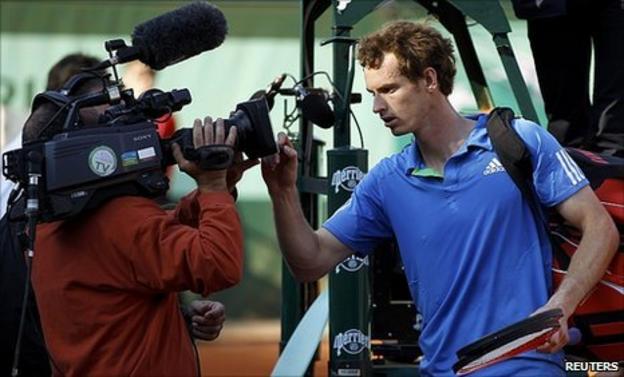 French Open quarter-finals: Murray beat Chela 7-6 (7-2) 7-5 6-2
I'm thrilled to have made it through to my first French Open semi-final and, after the last couple of weeks I've had, I must say I'm a bit surprised too.
Since arriving in France, I got hurt the first day in practice, rolled my ankle in the third match, and the latest thing was a trip to the dentist after my match against Chela.
I bit into a baguette the day before and broke one of my teeth, and then I woke up in the middle of the night with a sore throat, so that meant rushing off to get the tooth fixed after my quarter-final. It's just been one thing after another but I've managed to get through it, and I'm still in the tournament.
After making the semi-finals at the other three Grand Slams it feels good to complete the set in Paris, although my focus is obviously on winning the title. Reaching the semis at all four is a very tough thing to do and it's good to know that I've improved my all-court game, because a few years ago I was struggling on the clay.
I haven't actually played that well consistently this tournament and the Chela match was a good example as I lost concentration a little bit, and it was scrappy because the wind was difficult, but I've managed to get myself into the semis and I've got to be pleased with that.
The last time a British player got to this stage at Roland Garros was when Tim Henman played Guillermo Coria in 2004, and I remember watching that match at Queen's when it was the National Tennis Centre. It was a really great effort for Tim to get that far, no-one really expected him to make the semis of the French, and I just hope I can go one better.
I've certainly proved I can play on clay and that improvement actually began last year. I started to feel more comfortable on the surface and understand what I needed to do to get better, and I now move much better on clay than I used to. Being physically stronger has helped me so much over the last couple of years.
Clay is a surface that I had struggled with but one that I've worked through, and it's been a good process. The other surfaces came naturally to me, and with this one I had to spend a little more time on the practice courts, more time watching matches, to understand how I was going to get better on it. It feels great when hard work pays off like that.
The real test of that work will come against Rafa on Friday and I'll spend some time beforehand watching videos of matches that I've played against him to see what I've done wrong, and to make sure I don't make those mistakes again.
Patience is the key when you play Rafa. His ball is very heavy, so it's really difficult to go for shots straight off the bat, you need to work the ball very well and when you get the right opportunity - go for it. He's going to make you run, he's going to make you work very hard, and if you're panicking and saying to yourself, 'I've got to finish the point earlier, I've got to go for huge winners earlier in the rallies', it just doesn't work.
It's certainly quite a thrill to be part of Friday's semi-final line-up as it's a big day for tennis. To have all four top seeds in the semis of a Slam is great for the sport, I think, and of course the other semi has a lot riding on it. If Novak wins, he goes to number one in the world, but Roger's obviously going to have something to say about that. Novak's on an incredible run but after so many days off he needs to be ready to go from the start against Roger, and it's just too hard to predict what's going to happen.
It's another chance for all of us to get to another Grand Slam final and I'll try not to get too caught up in all the interest around my match. For the last few days I've been so busy with everything that's been going on that I haven't had time to think about anything else, which is probably a good thing. I know a lot of people back home will be trying to sneak a look at the match while they're at school or at work, so I'll need to make sure I put on a good performance for that reason.
I've had great support from the guys here with me and out on court in all the matches, let's hope there's more to cheer on Friday afternoon.
Andy Murray was talking to Piers Newbery and will be contributing regular columns throughout the summer.