French Open quotes - day 10
Last updated on .From the section Tennis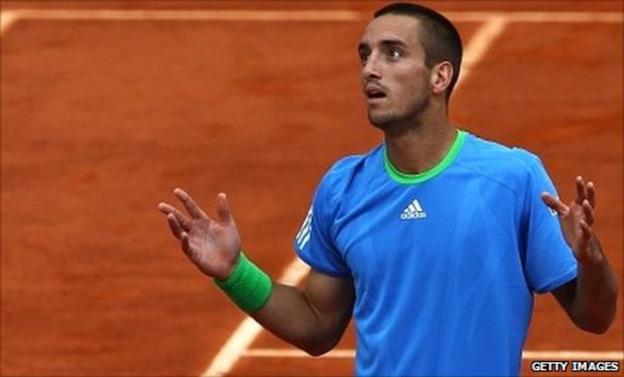 "I mean, since I watched tennis and I played tennis, I have never seen such a situation. Kid just jumped in and messed up my point." A less than happy Viktor Troicki on being forced to replay a point the Serb had won after a ball boy's early intervention - Andy Murray duly won it when it was replayed.
"I don't think many people recover from a sprained ankle and a tear in a tendon in two days," Murray reveals superhuman recovery qualties after suffering an injury on Saturday against Michael Berrer.
"I was given crutches which I didn't use because I didn't know how to. I had never used them before," but the Scot shows less than superhuman qualities when it comes to using what are, after all, effectively sticks.
"I was really sad inside but what can you do? Nobody can change it, just me. So I came back and I enjoyed it a little bit more at the end than at the start, for sure." Gutsy defending champion Francesca Schiavone on fighting back from a torrid start to beat Anastasia Pavlyuchenkova 1-6 7-5 7-5.
"I prepared well for this match with my dad. I am very happy and proud." Marion Bartoli praises papa Bartoli after beating Svetlana Kuznetsova to become the first Frenchwoman since 2005 to reach the Roland Garros semi-finals.
"I served badly, she put the pressure on. She also had all the luck, she hit the lines while I was missing by three millimetres. But I played so bad. It was worse than the most horrible dream," 2009 champion Kuznetsova struggles to come to terms with her defeat.