French Open quotes - day eight
Last updated on .From the section Tennis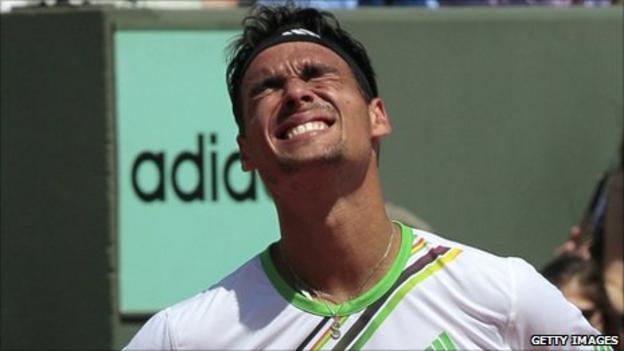 "Even as a two-hander I think the one-handed backhand is better to watch. Roger [Federer], Stan Wawrinka and [Richard] Gasquet are the three best one-handed backhands in the game." Novak Djokovic admits that he hasn't quite got every shot in tennis.
"I should be satisfied, the whole tournament I wasn't playing my best tennis but I still made it to the fourth round. Of course, when you play only to 50% of your potential, it's very tough to win the fourth round of a Grand Slam." Vera Zvonareva refuses to get too down on herself - or to go overboard about the performance of Anastasia Pavlyuchenkova.
"I was playing with the wind against me, and it was a bad game because all of a sudden there was more wind, and I had the feeling that I was playing against the wind and not against Stan, so in the end I made wrong decisions." In explaining why he dropped serve early in the third set of his win over Stanislas Wawrinka, Roger Federer confirms what many have suspected all along - that it's difficult to play tennis with a bad case of wind.
"I don't really want to comment on this, because, well, it's none of my business. I'm just trying to do my thing, focusing on me ... The rest, I don't really care." Anastasia Pavlyuchenkova clearly won't be losing any sleep over the fact that her win against Zvonareva means the top three women's seeds are all out of the tournament.
"I don't want to say anything about this. You should ask him. I don't know what he had, what he's going to have, what he still has." Responding to the suggestion that Fabio Fognini had cramp and therefore shouldn't have been allowed to receive treatment in the fifth set of their epic match, the vanquished Albert Montanes makes it clear he won't be taking a second job as the Italian's physiotherapist anytime soon.
"I'm in a lot of pain now. This is not cramp, and I have to have some tests. I will do whatever is possible to play the quarter-final. If I can't play, I retire for sure. But there is a lot of time now. I have 48 hours to recover. Maybe I can; maybe not." Fognini looks forward to putting his feet up for a couple of days.