Djokovic should inspire Andy Murray - Boris Becker
Last updated on .From the section Tennis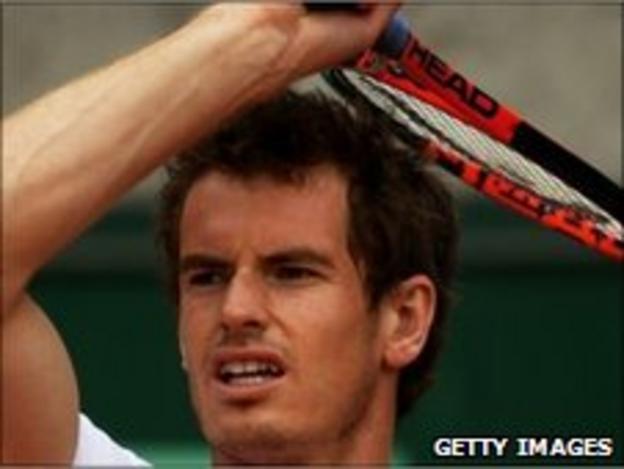 Andy Murray should be inspired by the rise of Novak Djokovic to achieve the Grand Slam win that is "very close", according to Boris Becker.
The six-time major winner told BBC Radio 5 live that Djokovic's progress "shows it is possible to overtake [Rafael] Nadal and [Roger] Federer".
The Serb is now ranked second in the world having won 42 matches in a row.
Murray overcame injury to reach the fourth round of the French Open on Saturday by beating Michael Berrer.
The Scot, seeded fourth at Roland Garros, now goes on to play Serbian 15th-seed Viktor Troicki.
Murray suffered an ankle problem in the second set against Berrer and looked in pain for much of the rest of his brisk 6-2 6-3 6-2 victory.
There is now a question mark over how well the British number one can recover before he meets Troicki on Monday.
Becker told the Sportsweek programme he had no doubts that Murray could win a Grand Slam title "if he wants to".
"He's been one game away. It's very close," said the German.
"He has the talent, but something has been stopping him from going all the way.
"He has to want to do it, then it's just a matter of a few details - getting fitness together at the right time, getting a good draw.
"If you look at Djokovic the last couple of years, he was floating around from three to five [in the world rankings] then all of a sudden... he has just overtaken everybody.
"I strongly believe this should stimulate Andy Murray."
The three-time Wimbledon winner said it is "a mystery" why no British man has won a Grand Slam singles event for three-quarters of a century.
"It doesn't make sense - you have the money, there is a love of tennis in this country," he added.
"Maybe it needs a replacement of people management-wise?"
Murray had looked shaky against 95th-ranked Berrer in the early stages of Saturday's match, but the fall that led to the ankle injury - and subsequent eight-minute stoppage - seemed to invigorate the 24-year-old.
"All I could do was start being more aggressive to shorten the points," he wrote in his column for the BBC.