French Open quotes - day seven
Last updated on .From the section Tennis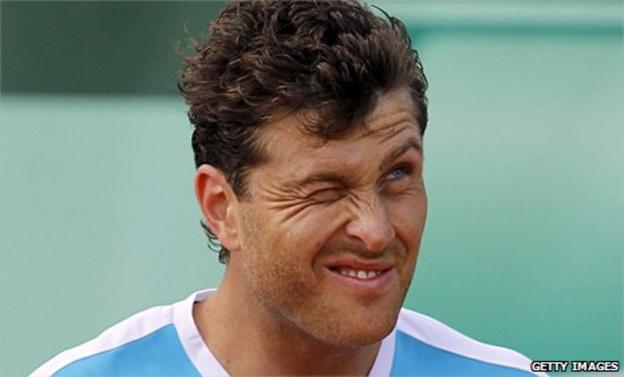 "It's not an excuse, but the way I am is that I felt sorry for him - that's my mentality. I should have hurt him when he's down, but that's difficult for me. I think you cannot play worse in this situation than I did." Michael Berrer explains his collapse while Andy Murray limped around the court with a sore ankle in their third-round match.
"I have to work on that, definitely, I need to be tougher. Like in Germany, we have a saying that an injured deer has to fall. So that was what I should have done today." Berrer, the world number 95, admits his sympathetic attitude to injured opponents is unlikely to help his tennis career.
"I've managed to play almost two sets with it but I've just got to wait and see and do all the right things. I'll try to hit some balls tomorrow and that's all I can do just now. I don't know if I'll be playing the next match. I don't know if I'll be 100% fit." Andy Murray knows he cannot rely on his next opponent, Serbian Viktor Troicki, to go easy on him.
"If he is injured and cannot run of course I am going to take advantage of that. He would do the same if I had the same problems. We are all professionals and we want to win. Sometimes it's ugly but that's our job." Troicki confirms he will not treat Murray with kid gloves.
"I have had some trouble with my stomach with food poisoning in the last couple of days which is not the best situation for me. On Thursday night I did not get any sleep at all, but hopefully it is going to get better." The 15th seed is not exactly in great shape himself.
"I saw Caroline and she was upset and devastated about the loss. But she's 20 years old, she's number one in the world. I don't know how many matches she's won this year and how many tournaments so one little slap, even if it is at a Grand Slam, it shouldn't bring you down. I think she's an amazing player. The criticism that she gets? I mean people have their own opinions. But I think she's doing a good job." Fourth seed Victoria Azarenka sticks up for her friend and top seed Caroline Wozniacki following the Dane's early exit.
"I definitely think I have a chance of winning. But it doesn't really matter about what is happening elsewhere in the draw because I feel that, if I play well, I can beat anyone." German 15th seed Andrea Petkovic is quietly confident of continuing her progress after seeing some big names fail to make the second week at Roland Garros.