Life after a doubles break-up
By Piers Newbery
BBC Sport at Roland Garros
Last updated on .From the section Tennis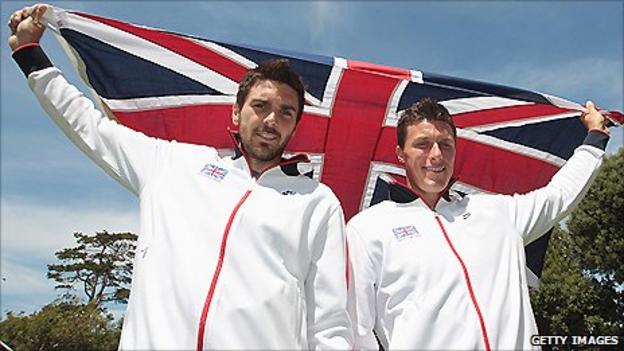 It's never easy getting over a break-up but life as a doubles player can make it especially hard, with your ex always around the corner at the same tournaments.
British number two Colin Fleming admits as much, saying a sporting divorce "can be very awkward and quite personal", but this week in Paris has shown that it does not have to be the case.
Having split with Ken Skupski at the end of 2010 after a highly successful couple of years, the pair were on opposite sides of the net at the French Open on Wednesday - Fleming partnered by German Philipp Marx and Skupski alongside Slovakia's Igor Zelenay.
It was the scratch pairing of Fleming and Marx that came through 6-4 6-4 on Court 14, looking very sharp in doing so, but there were no daggers drawn at the net afterwards.
Such is the strength of Fleming's on-going friendship with Skupski that the pair have not only shared accommodation in Paris but also a bedroom, due to overcrowding in their apartment, and the atmosphere has been more fun than frosty.
"Everything was normal, to be honest," says the 26-year-old Scot. "We went out for dinner in the evening and we were having a bit of fun with a few quizzes in the apartment to entertain ourselves but we didn't talk about the match at all.
"We just accepted we had to get on with it and that's what we did."
It was made marginally easier by the fact that it was not the first time they had faced each other this year, with Fleming getting revenge for having lost alongside Ross Hutchins against Skupski and Jamie Murray at Delray Beach.
We played each other earlier in the year and that was weirder because it was four Brits playing - that was strange," says Fleming. "Today it was OK and that was pleasing."
Fleming and Skupski - or "Flemski" as they became known - enjoyed unprecedented success for a British doubles pairing of recent times as they reached four ATP finals, winning titles in St Petersburg and Metz in 2009 and beating the number one ranked Bryan brothers at Queen's Club.
But the wins began to dry up last year and the decision was made in October to make a "fresh start".
"It was awkward to split up," says Fleming. "We played for just over two years together and we came from playing Futures with low rankings to having some successes we were pretty proud of, winning a couple of ATP titles.
"But we both kind of accepted we'd gone a bit stale. I guess expectations went up and we didn't quite meet them."
Fleming decided to team up with Davis Cup team-mate Ross Hutchins but injuries to both men have seen the pair play just nine matches together this year.
"It's been so, so frustrating," says Fleming. "We spoke a lot at the end of last year when we agreed to play together about our hopes and our aims and what we were going to try to do to achieve them. We've just not had a chance to do it.
"Ross hurt his wrist in Chennai at the start of the year and it flared up at the Australian Open, I had my back injury.
"Ross is fit now and we'll go for it on the grass. We're very much back to where we were hoping to be at the start of the year, trying to build a team and a partnership."
That will have to wait for the moment, though, as Fleming has more immediate business in Paris and the tantalising possibility of a first third-round place at a Grand Slam.
And his relationship with Skupski remains intact - indeed it has survived their on-court divorce sufficiently for Fleming to have taken a full part in the Liverpudlian's recent marriage celebrations.
"It was a little bit awkward initially and we maybe weren't as in contact as often as we were before, but I think that's normal," says the Scot.
"It's a good thing that we're still friends and we had good fun at his wedding a couple of weeks ago - I won't tell you any more about that!"