French Open quotes - day four
Last updated on .From the section Tennis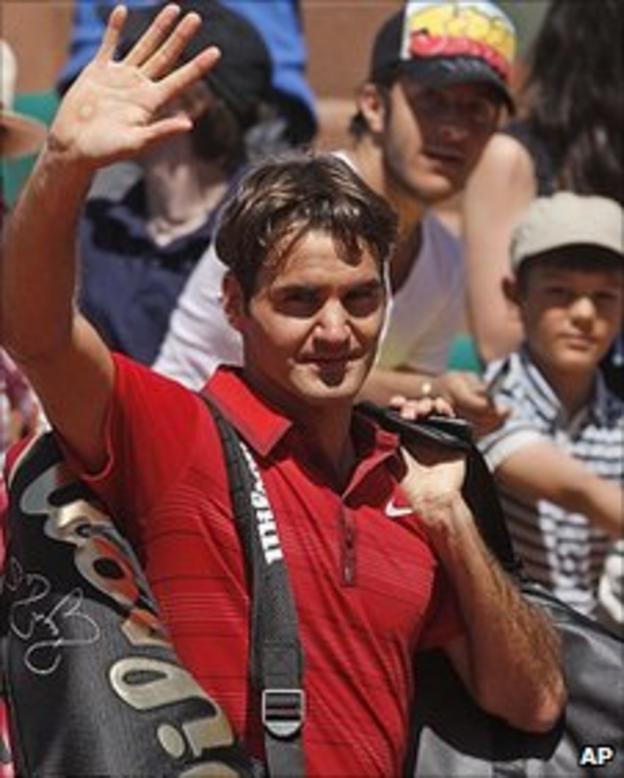 "I should have done it before but I'm going to do it, no matter the price. Because I fought for so many years to have the Coupe des Mousquetaires and I only got this tiny one. This won't do. It's always very nice to win Roland Garros, but I wanted to have the big one at home." Roger Federer reveals he will have a full-size replica of the French Open trophy made in tribute to his 2009 triumph - a win that ended 11 years without success at Roland Garros.
"It was a tough match. I started off really well and everything was going the way I wanted it to. Second set she played better. I started to play a little bit worse. Thankfully I finished it in two sets. It could easily have been three." World number one Caroline Wozniacki following her 6-3 7-6 (8-6) win over Aleksandra Wozniak.
"For one-and-a-half sets you're really well focused, and after this you can relax a little at the end of the match. And it was a bit simpler as well at the end. Now I'm very happy with these types of matches. I can practise more and so on, but now I'm really in the tournament, which is a good thing." Federer after beating French wildcard Maxime Teixeira in straight sets.
"I gave it all. I did what I could. To play against Roger is an incredible experience. I'll never forget it and it will be great memories." Teixeira remains philosophical in defeat.
"I felt really good out there. Obviously I got off to a really good start, which helps. To break and then to manage to hold serve from 0-40 down I think really set the tone for the match. If you can get off to those good starts, especially when they have some opportunities, it can be a bit deflating. So I thought from that point on I kept my foot down and played a really good match." Australian Sam Stosur, runner-up last year, after beating Romanian Simona Halep 6-0 6-2.
"I think she's very individual. Obviously she's come out with some crazy stuff. I don't know that I would be able to play in a meat dress or anything. I was thinking of stapling some bacon on my shoulder or something, but I don't know how that would work out in the sun. But she's cool. She has cool songs. Just you never know what she's going to do next, and I really can appreciate that." American eccentric dresser Bethanie Mattek-Sands on her stylistic inspiration from pop superstar Lady Gaga.