Novak Djokovic out to end Rafael Nadal's clay dominance
Last updated on .From the section Tennis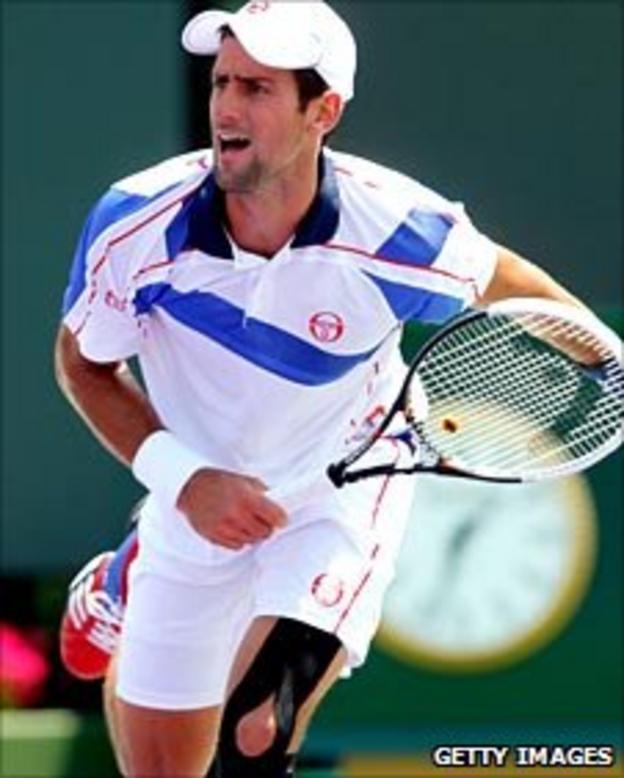 In-form Novak Djokovic says he is confident he can overcome Rafael Nadal on clay this summer.
Spanish world number one Nadal is the undisputed king on the surface, with five French Open crowns to his name.
But Djokovic, unbeaten in 24 matches in 2011, said: "I am playing with a lot more confidence against him these days.
"I now believe I can beat anyone on any surface, although beating Nadal on clay remains a big ask and the biggest challenge of all," added the Serb.
Djokovic, 23, begins his clay court campaign this week at the Serbia Open in his home city of Belgrade.
He has risen to second in the world rankings thanks to his unbeaten hardcourt run this year which has included title wins at the Australian Open and in Dubai, Indian Wells and Miami.
In the latter two events he overcame Nadal in the final. But with the Spaniard, 24, adding to his list of clay court trophies recently in Monte Carlo and Barcelona, Djokovic is under no illusions about the size of the task he faces.
"Down the years, as Nadal kept ripping apart everything in front of him on red clay, we always thought there was no room left for improvement in his game and he kept surprising us," he said.
"He is still the player to beat [on clay] and the favourite in each of the upcoming events, including the French Open, because he is so dominant on this surface."
Djovokic was unable to prevent Nadal from winning his seventh Monte Carlo crown and his sixth Barcelona title as he missed both events beacuse of a knee problem.
"I needed the extra two weeks of rest to recover from a gruelling hardcourt season, a surface which is not very pleasant for knees and tendons, but I am ready now," he said.
The Serb added that nutritional advice has helped him improve physically this season.
He added: "A lot of people have been speculating what the secret formula of my good form is, but there's no secret.
"It's just that all the pieces have fallen into place after years of hard work and we are now reaping the rewards.
"I have also matured as a player and a person. I feel more confident and more consistent because I am capable of holding my own against the world's best players under any circumstances.
"That wasn't the case earlier [in my career]... whenever I needed to be consistent against [Roger] Federer and Nadal in the latter stages of grand slam events I was unable to stay psychologically balanced and confident."
Djokovic has a bye into the second round in Belgrade, and will play on Wednesday against the winner of the match between Spaniard Ruben Ramirez Hidalgo and Romania's Adrian Ungur.