Wimbledon winners to earn record prize money
Last updated on .From the section Tennis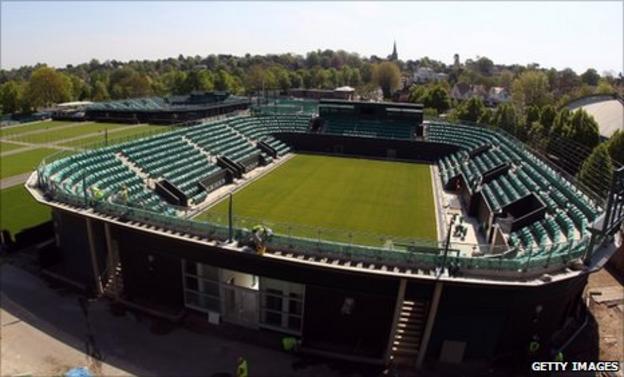 Wimbledon organisers have revealed that this year's men's and women's champions will receive £1.1m - a rise of 10%.
The total prize fund for the 2011 tournament is £14.6m, an increase of 6.4% from last year.
A new Court Three and Court Four will be used for the first time this year as capacity rises by 1,000 to 38,500.
But the All England Club has called on the Government to take action over both ticket touts and tax laws that penalise individual sports stars.
International athletes in individual sports who compete in Britain are currently taxed at 50% on their appearance fee, winnings and, crucially, a proportion of their worldwide endorsement earnings.
That means foreign athletes with commercial agreements based overseas are still taxed on those deals for the days they are in the United Kingdom.
Olympic sprint champion Usain Bolt withdrew from the Crystal Palace Diamond League meeting last year because of the tax implications and, while Wimbledon does not expect to be directly affected, fears have been raised over other tennis events in the UK, such as the ATP World Tour Finals.
"What we want is some action," said Wimbledon chief executive Ian Ritchie. "Nobody has any problem with taxation on prize money but, in individual sports, athletes are taxed on their global endorsement income when they come to this country.
"If Lionel Messi comes here for a Champions League final he doesn't get taxed on his endorsement income but when Roger Federer or Rafa Nadal come here they do.
"That is a disincentive, quite clearly. In the discussions we have had with players and agents, it is on their radar."
The All England Club will host the Olympic tennis event in 2012, and the maximum fine for illegally selling 2012 tickets will soon go up to a maximum of £20,000 per offence, something Ritchie would like to see extended beyond next year's Games.
"We all found it somewhat strange the Government were extolling the virtues of fines against ticket touting at the Olympics, whereas an event held three weeks beforehand gets no protection," said Ritchie.
"We believe ticket touting should not be allowed to happen. We put a lot of time and effort into stopping it ourselves.
"One fails to see why the Olympics is protected and the Wimbledon championships isn't."
Despite the annual sum of around £30m paid to the Lawn Tennis Association from the proceeds of the Wimbledon Championships, the All England Club will not demand more accountability for the lack of British players competing in the latter stages of the tournament every year.
"The Championships are incredibly successful, irrespective of who is playing," said Philip Brook, chairman of the All England Club and the Championships.
"It would be better still if we had strong British interest through to the end. Our focus is on running the best tennis tournament in the world.
"We have a long-term agreement where the surplus is passed to the LTA for the benefit of British tennis. It is not our job to direct or influence how that money is spent."
Visitors to Wimbledon this year will have two new courts to visit, with Court Three a 2,000-seat stadium of which 500 seats will be available to spectators with ground passes, and four courts will have Hawk-Eye line-calling technology in 2011 for the first time.
The 125th Championships get under way on Monday, 20 June.