Jurgen Melzer beats Roger Federer in Monte Carlo
Last updated on .From the section Tennis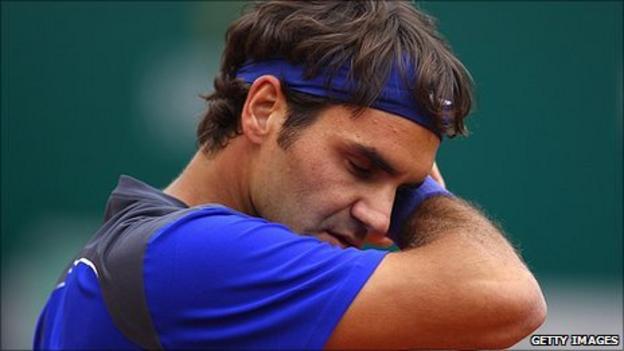 An out-of-sorts Roger Federer crashed out of the Monte Carlo Masters at the quarter-final stage as Jurgen Melzer saw off the number two seed 6-4 6-4.
Melzer recovered from an early back problem to break in the fifth game, going on to save break points on his own serve to seal the first set.
The second set followed a similar pattern as Federer failed to find any form in the windy conditions.
World number one Rafael Nadal cruised through 6-1 6-3 against Ivan Ljubicic.
The Spaniard, trying to win a record seventh Monte Carlo title in a row, was in imperious form in the first set but was forced to dig a little deeper in the second before closing out a straight-sets win.
"It was a very difficult day to play tennis. A lot of wind, changing directions the wind all the time," said Nadal. "He didn't play well, that's for sure. Ivan didn't have his best day."
Nadal will next face Andy Murray, who beat Frederico Gil 6-2 6-1, for a place in the final.
In the other half of the draw, Melzer's reward for beating Federer is a last-four match-up against Spanish fourth seed David Ferrer.
Ferrer rarely looked in trouble in the day's first quarter-final against Serbian Viktor Troicki as he came through 6-3 6-3.
Left-handed Melzer went into his contest against Federer without a win against the Swiss 16-time Grand Slam champion in three attempts, but he insisted afterwards confidence was the key to his win.
"I never doubted that I could win," he said. "I played my game and tried to attack his forehand when the points were important.
"He was defending more on his backhand side so there was more space on the forehand."
Federer, who last won a tournament in Doha in early January and has never won on the Monte Carlo clay, said: "He did well and played aggressive. He didn't give me many chances.
"I didn't think I played terrible," he said. "It's the first week of play (on clay) so I didn't expect to play my best. It's been a solid tournament.
"I think I should have definitely gotten one of the sets. Every time I had this slight opening, things didn't go my way.
"Even in the wind, I had all my chances to come back into the match. He did well. I think he played aggressive, was able to mix it up. Obviously, I wasted way too many break-point chances today, which was unfortunate."
Melzer beat Ferrer on his way to reaching the semi-finals at the French Open last year, a result he hopes will prey on the Spaniard's mind before their meeting on Saturday.
"I will try my best. The last two matches I have won against him," he said. "In Paris last year I killed him on clay and hopefully that result is still in the back of his mind.
"After beating Roger Federer there is nothing I can't do."