Andy Murray interested in working with Tim Henman
Last updated on .From the section Tennis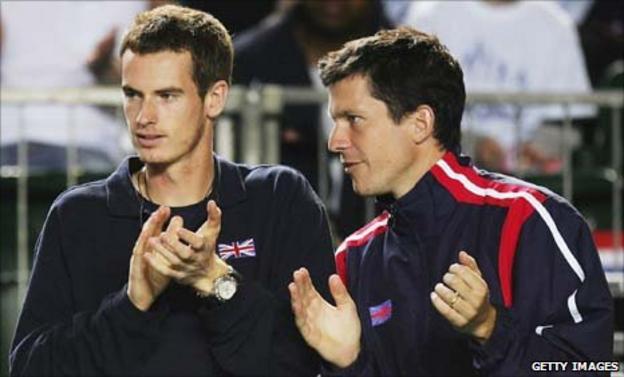 Andy Murray has revealed that he would like the chance to work with Tim Henman, the man he replaced as British number one.
Murray, 23, split from part-time consultant Alex Corretja in March and will work with Darren Cahill and Sven Groeneveld until he finds a new coach.
The world number four said: "I would be interested in working with Tim.
"I might speak to him but I haven't yet. He's an ex-player who I'm sure could help me out in many respects."
Murray said he had not not previously asked Henman to coach him, and he also has doubts that the former world number four, who retired in 2007, would be interested in the role.
"Unfortunately, I think he's quite happy on the golf course, so I'm not sure," added Murray, who begins his clay court season at the Monte Carlo Masters this week.
Murray, who last week rose to his current world ranking despite not having won a set since January, believes the timing of the appointment is crucial.
"I'd like it to happen before Wimbledon, but also I wouldn't like to appoint someone two days before the French Open," he said.
"If it doesn't happen in the next two or three weeks it's more likely to happen straight after the French Open or after Wimbledon."
Murray stated that his working relationship with Corretja deteriorated during the Australian Open in January.
The Scot reached the final but lost to Novak Djokovic and from there he suffered the worst run of form in his professional career.
"The problem with the situation with Alex, and this is not a criticism of him, was that he was the most experienced guy on my team so he controlled my schedule," Murray said.
"He obviously wasn't in Australia and that's where I feel the relationship maybe broke down a little bit.
"We still really get on as friends but if someone's going to be controlling what's going on, you need to have them there at the big events.
"You spend four weeks away from them and you're having a great run, but then you come back and you're being told you need to do this or do that."
Murray will face either Radek Stepanek or Marcos Baghdatis in the second round in Monte Carlo, having received a first-round bye.