Nadal beats Federer to book Miami final with Djokovic
Last updated on .From the section Tennis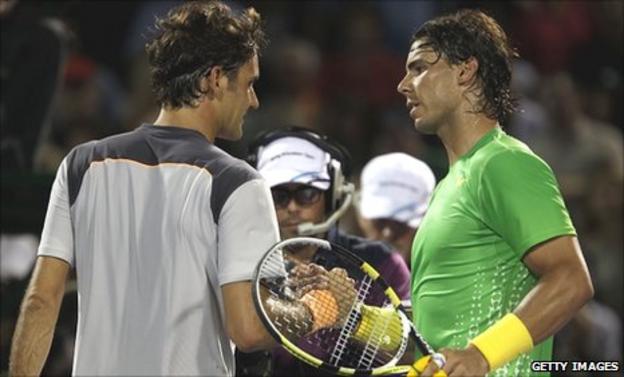 Rafael Nadal made short work of Roger Federer in their semi-final at the Sony Ericsson Open to set up a Sunday final showdown with Novak Djokovic.
The Spaniard crushed his great rival 6-3 6-2 to improve his record against the 16-time grand slam winner to 15 victories in 23 career meetings.
World number two Djokovic recorded an emphatic 6-3 6-1 victory over American Mardy Fish, his 25th straight win.
The Serb, unbeaten in 2011, is aiming to clinch his fourth title of the year.
He has already won the Australian Open and titles in Dubai and Indian Wells.
After pushing Federer down to third in the world rankings last month, Djokovic is threatening to topple Nadal from the number one spot and beat the Spaniard in the Indian Wells final a fortnight ago.
Federer could not create a single break point against Nadal in the opening set, while Nadal took both of the chances he set up.
Once Nadal breezed into a 3-0 lead early in the second set, the contest looked to be over.
The Swiss master briefly threatened a fightback but the crowd's hopes of a deciding set were soon doused by the irrepressible Nadal.
"I think I played a very, very good match, very solid and serious. In the first set especially I think I played very, very well," said Nadal, still eyeing his first title at Key Biscayne.
"In the second set I think he played worse. He had more mistakes than usual."
Federer was left to reflect on his own errors and said: "Nadal played tough and he played good when he had to and I didn't do that. So it's disappointing for me.
"I was just not good on the offensive, and that took all the opportunities away to create something."
Despite his latest defeat, the 29-year-old remains determined to regain his superiority in the men's game.
"I know that I can do many more things in the game," Federer insisted. "Sure, it's disappointing losing a game like tonight, but those are the matches I work extremely hard for in the off-season. I have many more years left."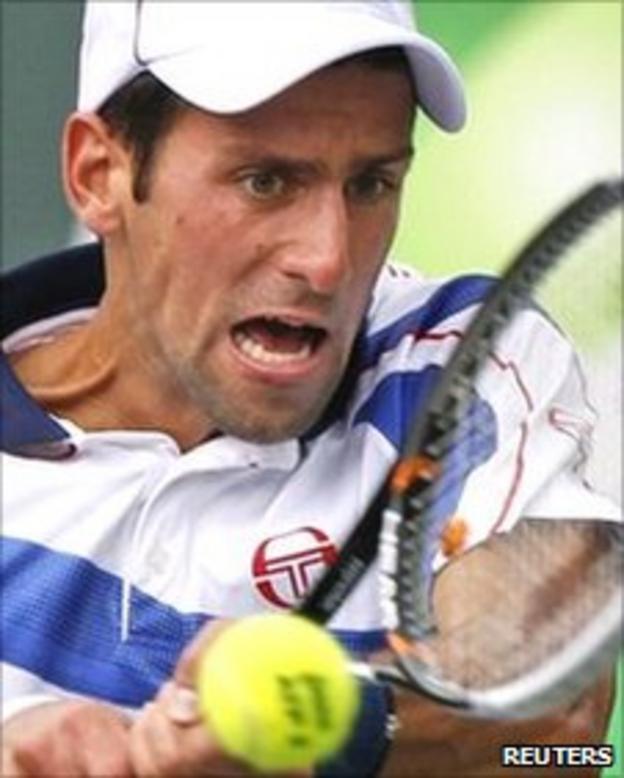 Djokovic, 23, has shown a lethal instinct to win 25 successive matches since December and again demonstrated a killer touch to see off the challenge of 14th seed Fish in an hour and 26 minutes.
Djokovic is now 40 service games unbroken in the Miami event.
"I don't feel invincible," he said. "I don't feel that I can't lose on the court. What I feel is big confidence. What I feel is that I'm playing best tennis of my life."
Fish, the world number 15, had a chance to impose himself in the first set at 5-3 down but he miscued two break points, volleying the first wide left and then finding the net with the second.
This was a significant moment of the match as Djokovic went on to seal the first set before powering through the second.
"It is about focus and trying to get it right," admitted the Serb. "You obviously feel pressure and tension in these moments when you're break point down, especially at this level where you know if you lose your serve it's going to be very hard to get it back. I tried to kind of play simple that stage."
Fish, who is set to reach a career-high 11th in the world rankings as a result of his performance in Miami, was full of praise for his opponent.
"He is not losing games. He is crushing us," said Fish. "He's so confident and he doesn't give you much out there at all. When he does, he seems to erase it pretty well."
Djokovic insisted that he "wouldn't feel like a favourite" for the final despite his imperious recent form. "For me to win, I will be have to be on the top of my game," he added.
That sentiment was echoed by Nadal, who believes he will need more consistency against Djokovic than he had against Federer.
"Against a player like Novak, it's impossible to win the match playing like this," added the Spaniard. "So on Sunday I have to play very well all match if I want to have any chance.
"I have to play aggressively and I have to play all the points, and that's what I am going to try."