Kim Clijsters and Maria Sharapova win epic Miami ties
Last updated on .From the section Tennis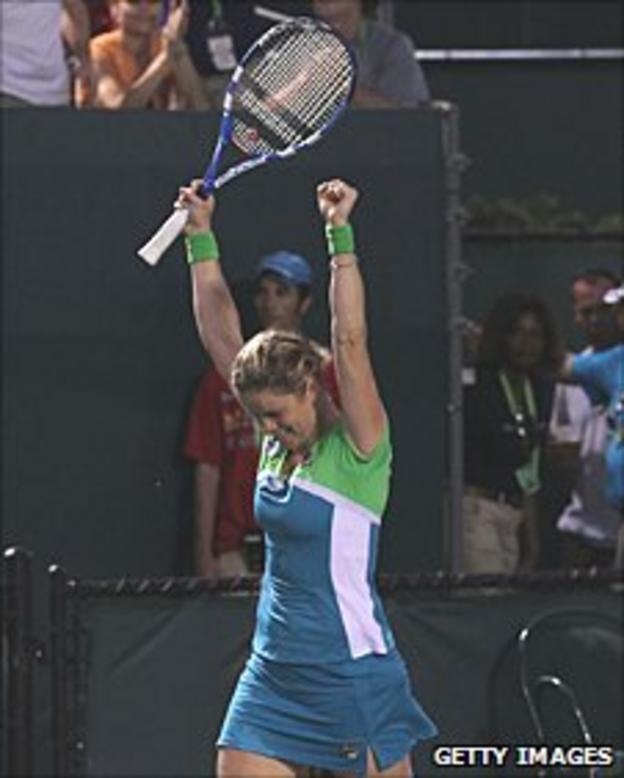 Defending champion Kim Cljisters saved five match points to beat Ana Ivanovic 7-6 (7-4) 3-6 7-6 (7-5) to reach the last eight of the Sony Ericsson Open.
Maria Sharapova is in the semi-finals after taking nearly three-and-a-half hours to beat Alexandra Dulgheru 3-6 7-6 (8-6) 7-6 (7-5).
In the men's competition Novak Djokovic kept up his unbeaten record this year with a 6-3 6-2 win over Viktor Troicki.
Rafael Nadal and Roger Federer are also both through to the quarter-finals.
They enjoyed straight sets wins over Alexandr Dolgopolov (6-1 6-2) and Olivier Rochus (6-3 6-1) respectively.
Federer's match did not start until well after midnight because of Sharapova's epic encounter, and finished at 0129 local time.
"That's what tennis is all about. We don't know when we play and we don't have a set schedule, and so we have to be able to adapt," said the Swiss player.
Djokovic's 21-match unbeaten run in 2011 is the best start to a year since Ivan Lendl's 25 matches in 1986.
His victory over fellow Serb Troicki was the ninth time in a row that he has beaten his compatriot.
Tuesday's late finish to play was caused by a combination of long matches and weather delays earlier in the day.
Rain meant that Nadal's opponent Dolgopolov had to finish off his third-round match against Jo-Wilfried Tsonga earlier in the day.
Having seen off Dolgopolov, Nadal's next match will be a rerun of the 2010 Wimbledon final against seventh seed Tomas Berdych.
The Czech secured his place in the last eight with a 6-3 2-6 7-6 (7-4) win over German Florian Mayer.
Another of the early matches saw Mardy Fish move closer to overhauling Andy Roddick as the leading American with victory over Juan Martin del Potro.
The 29-year-old battled to a 7-5 7-6 (7-5) win and will become the top-ranked American if he beats David Ferrer in the last eight.
Sixth seed Ferrer eased past fellow Spaniard Marcel Granollers 6-1 6-2 in the fourth round, while Kevin Anderson of South Africa defeated American John Isner 6-3 7-6 (7-4), and will now play Djokovic in the next round.
Del Potro is set to return to the top 45 in the world rankings next week despite his defeat, but he plans to take a break at the start of the clay-court season as he nurses the wrist that required surgery last year.
"After here, I will see the doctor," said the Argentine. "Then we will take a decision if I can still play or if I need to stop.
"I want to play [in Estoril next month] but I've not played on a clay court since 2009, so it's a long time. I want to improve my game in that surface."
Clijsters, who now faces Victoria Azarenka for a place in the semi-finals, admitted her years of experience had stood her in good stead as she came so close to being knocked out of the tournament.
"Because I have been on the tour for many years, you realise that you have to keep trying until the last point is played," she said.
"In tennis, that's sometimes probably the frustrating part about it.
"It's never over until that last shot is played. Even if it's 5-1. OK, you start a game 0-0. She has to win four points."
Sharapova admitted she had not been at her best against Dulgheru, committing 17 double-faults and twice as many unforced errors.
"It was long and tough but, you know, I gutted it out until the end," she said.
The Russian turned her ankle late in the third set and needed treatment from a physio, but said she did not expect the injury to be a problem in her semi-final against Andrea Petkovic, who kept up her progress with a fine 2-6 6-2 6-4 win over Jelena Jankovic.
"It hurt when I did it," said Sharapova.
"I iced it a lot, and did an ice bath and got it taped. I think I'll be OK. I'm tough."