Andy Murray parts with coach Alex Corretja
Last updated on .From the section Tennis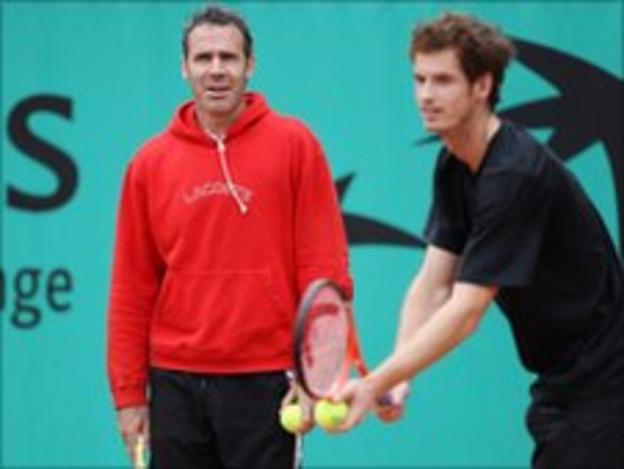 British number one Andy Murray and his coaching consultant Alex Corretja have parted company by mutual agreement.
Corretja, a former world number two, had worked with Murray on an ad-hoc basis since April 2008.
During that time, Murray reached three Grand Slam finals and won six Masters Series events, but the Scot's recent form has been poor.
A statement from his management company concluded: "Andy is currently reviewing his coaching situation."
There has been speculation in recent days that former world number one Ivan Lendl is a candidate to take over the coaching role, although BBC Sport understands he is not a contender.
Murray's form has slumped since his trouncing by Novak Djokovic in January's Australian Open final and he is now ranked five in the world, although results elsewhere mean he will actually return to number four next Monday.
Last Friday he bowed out in the first round of a third successive tournament when he lost to Alex Bogomolov Jnr at the Sony Ericsson Open in Miami.
It was his second defeat in a row by a player ranked outside the top 100 and intensified the focus on his coaching plans.
But Murray, 23, paid tribute to Corretja's work.
"I've had a really good relationship with Alex over the past three years," Murray said in the statement.
"I have learned so much from being around him and I want to thank him for his hard work, enthusiasm, dedication and support.
"He has been a great friend as well as a mentor to me and we've shared lots of success and good times both on and off the court."
Corretja added: "Helping Andy has been a great experience for me, he's got great talent and can be one of the best on any surface.
"I am very thankful to him for his confidence and trust during this time and also to his family, and the rest of Andy's team.
"I wish Andy, his family and all his team all the best both personally and professionally."
Apart from Corretja, Murray's support team at tournaments, since the departure of full-time coach Miles Maclagan last year, comprises of long-time friend Dani Vallverdu, fitness coach Jez Green, physio Andy Ireland, and on occasions his mother Judy Murray.
There is a growing feeling that he needs to appoint a full-time coach, and eight-time Grand Slam winner Lendl had been touted as a possible candidate.
However, BBC tennis correspondent Jonathan Overend says the Czech-born US citizen is not a contender, but work on finding a new coach is continuing behind the scenes.
"Corretja's role has always been something of a mystery, especially over the past six months or so, and ending the arrangement clears the way for Murray to bring in an experienced new coach, although there is no news on that yet," said Overend.
Meanwhile, Murray's older brother Jamie told The Times newspaper that Andy needs to "let his guard down" if he appoints a new coach.
"If he goes (down that) route, you have to give your trust to that person. You have to let your guard down a bit and listen," he said.
"Andy could do with some advice from the right person.
"He is good enough to get to that next level, but he needs that something extra that's missing. It's a mental thing, he has all the ability in the world."
Andy Murray is scheduled to return to action on clay at the Barcelona Open beginning on 18 April.