Tribunal hears British taekwondo coaches & medics 'had toxic relationship'
Last updated on .From the section Taekwondo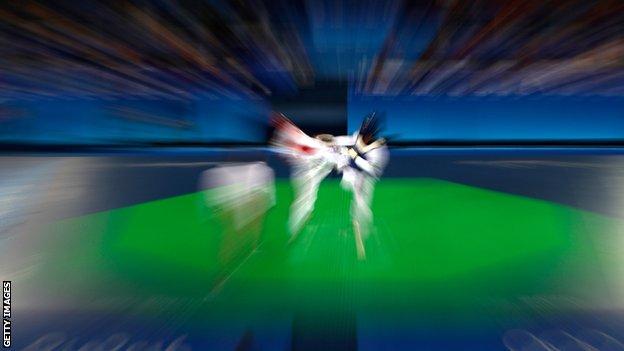 Coaches and medics working with leading British taekwondo athletes had a 'toxic relationship' before changes were introduced, a tribunal heard.
It follows claims that winning medals came at the expense of players' welfare in the build-up to the 2016 Rio Olympics.
"A major overhaul of what an elite medical service looks like was needed," said physiotherapist Doug Jones.
"The previous service was heavily biased towards performance and was failing."
His company, Altius Healthcare, took over working with GB Taekwondo (GBT) from the English Institute of Sport (EIS) at the start of January 2017.
"UK sport governing bodies receive more funding the more medals they win," said Jones in a written statement.
"This had resulted in a 'toxic' environment and a breakdown in relationship between EIS medics and GBT coaches."
Jones was giving evidence at an unfair dismissal claim brought by physiotherapist Simon Edwards, who was seconded by EIS to work with taekwondo stars including double Olympic gold medallist Jade Jones.
Jade Jones won gold as the GB taekwondo team enjoyed their best Olympic medal haul, with silver for Lutalo Muhammad and bronze for Bianca Walkden in Rio.
Edwards, 54, has previously claimed at an employment tribunal in Manchester that taekwondo athletes felt pressured to do extra training amid fears of being dropped from the team.
He also said there were incidences of young competitors still training despite collapsing, vomiting or seeing their vision go "into two orbits".
One was repeatedly "found in tears due to being in excruciating pain" after having his training load increased, Edwards said.
GBT has denied Edwards' allegations and says the health, welfare and safety of athletes is its top priority.
Edwards made the allegations in support of his claim that when GBT switched from the institute to Altius, he was not transferred over.
He claims this was because he raised safety concerns, while GBT says he was never an employee of the institute so did not have that right.
Doug Jones said Edwards was "well liked" but "spread too thinly" and that the culture of the EIS was "old school".
There were concerns within GBT over "a high injury rate with too much surgery being carried out on athletes", employment judge Pauline Feeney was told.
Jones said one athlete had a suspected broken thumb, but still wanted to train.
He believes there were five hip operations on GB taekwondo athletes in 2016, but none since his company took over.
Jones said his company employed expert consultants in pilates, chiropody, podiatry, hydrotherapy and massage. The injury rate had reduced and there are better relations between coaches and medics.
But Simon Spencer, the EIS head of physiotherapy, said his organisation had raised concerns about hip injuries and questioned whether the service Altius provided was fundamentally different to the EIS.
GBT has insisted the safety and welfare of athletes "remains the most important consideration" and it "will never compromise on safety".
The hearing continues.