European Championships: Lauren Williams wins gold to defend title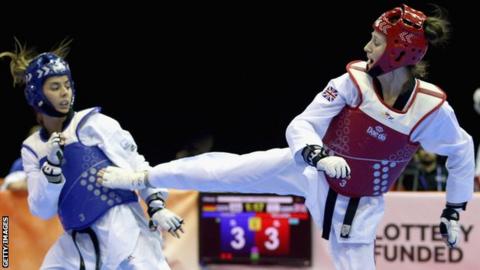 Teenager Lauren Williams defended her title as Great Britain won their third gold medal of the European Championships.
The 19-year-old former world champion from Wales beat Turkey's Nur Tatar 14-11 in the -67kg final in Kazan, Russia.
She also took gold in the US Open and bronze in the Sofia Open this year.
Jade Jones won -57kg gold and Christian McNeish -68kg gold for Britain on Friday, while Bradly Sinden, Jordyn Smith and Peter Radford claimed bronze.
Williams beat Italy's Daniela Rotolo, Portugal's Sofia Cruz and Anika Godel-Chelmecka of Poland in reaching the final.