World Taekwondo Grand Prix: Lutalo Muhammad wins gold
By Nick Hope
BBC Olympic sports reporter
Last updated on .From the section Taekwondo
British Olympic bronze medallist Lutalo Muhammad won a dramatic -80kg final at the inaugural World Taekwondo Grand Prix in Manchester.
The 22-year-old defeated Russian Albert Guan, 21, in sudden-death after the duo finished level (1-1) in three rounds.
His British rival Aaron Cook took bronze after losing to Guan in the semi-finals - also in sudden-death - after their fight finished 9-9.
"Winning is a brilliant feeling," Muhammad told BBC Sport.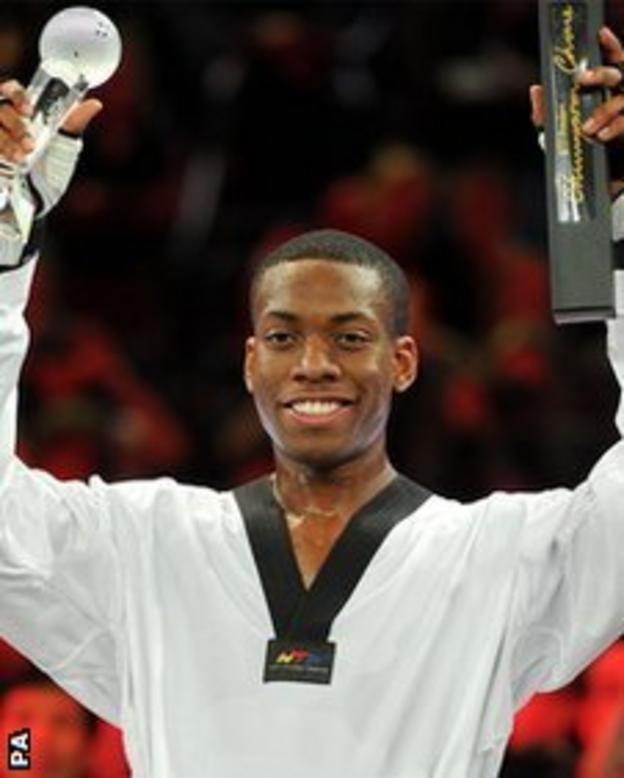 After beating 2011 World Championship silver medallist Yunus Sari of Turkey in the semi-finals, Muhammad trailed heading into the last round of the final.
"He [Gaun] is difficult to score against but fortunately my coach managed to slap it out of me and I managed to get some points in the third and then get the golden point."
Muhammad wanted to face Cook, whom he was controversially selected ahead of for last year's London Olympics.
"That would have been a fantastic fight and it's the fight the fans want to see," he said. "It would have been nice, but the nature of this sport means we fight so often and I am sure me and Mr Cook will meet - when we do it will be fireworks."
Cook, 22, was left to reflect on a loss which followed an impressive 17-14 defeat of American two-time Olympic champion Steven Lopez in the quarter-finals.
"I'm absolutely gutted because it is in Manchester, my family is here, everyone is here," the unfunded fighter told BBC Sport.
"Lutalo did an amazing job to get to the final but I couldn't match it."
Despite their acrimonious past and Muhammad claiming there was a "score to settle" ahead of the competition, the pair shared a handshake at the conclusion.
"There is always respect between me and Mr Cook," said Muhammad.
"It's just a healthy rivalry. It is taekwondo's Sugar Ray Leonard, Tommy Hearns and Marvin Hagler."
Earlier in the day, unseeded British fighter Dominic Brookes, 24, produced the fight of his life to defeat reigning -58kg world champion Taemoon Cha of Korea.
The fight was ended midway through the final round with Brookes leading 24-13, but he failed to capitalise on the second-round victory and was beaten in the quarter-finals by Iran's Hadi Mostean Loron.
"Overall, I am a bit disappointed because I really wanted a medal and I was so close to it," said Brookes.
"I'm going to the French Open next weekend. Hopefully the competition will be a bit easier and I can snatch that medal."
Another who impressed was Andrew Deer, 26, in the -80kg division.
The wildcard entry eliminated world champion Tahir Gulec of Germany 17-8 in the opening round before losing 7-3 to Lopez in a bruising encounter.
"It was a good scoreline and I used my strengths against his weaknesses. Hopefully I can build from here," said Deer.
British youngster Maria Reynolds lost 13-0 to US Olympic bronze medallist Paige McPherson in her opening fight.
On Sunday, Olympic champion Jade Jones will look to add Grand Prix gold to her collection with Olympian Martin Stamper and European champion Michael Harvey among the other British fighters in action.