Tokyo Olympics: 'This won't go unchallenged' - Ireland's Rudd after Games invite is rescinded
Last updated on .From the section Swimming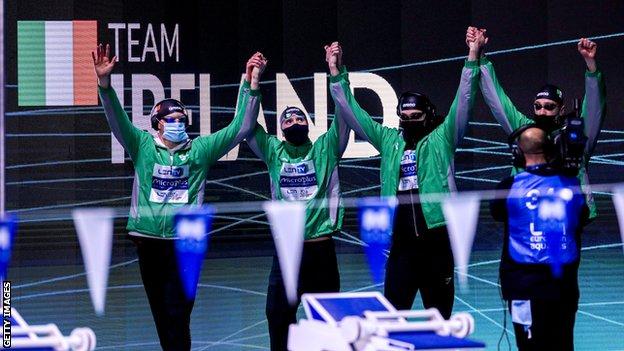 Swim Ireland high performance director Jon Rudd says it will "fight the corner" of the men's 4x100m medley relay team after an invite to the Tokyo Games invite was rescinded.
The invitation was received by Swim Ireland on Saturday then rescinded a day later as it was issued "in error".
"We won't be leaving this unchallenged - we celebrated on Saturday and the following day we were offered a fairly weak apology." said Rudd.
"We are going to fight their corner."
The team of Shane Ryan, Darragh Greene, Jack McMillan, Brendan Hyland set a new senior Irish record at the European Championships in Budapest last month.
Sixteen teams will compete at the Olympics in Tokyo this summer - the fastest 12 teams in the heats at the 2019 World Championships, with the the four remaining spots filled based on performances at Fina-designated meets during the qualification period, which ended on 31 May.
Relay debut
The invitation for Ireland to compete in the men's 4x200m freestyle relay is unaffected and they will be the first male Irish relay team to make an Olympics appearance.
The freestyle team set a new national record of 7:12.00 in Budapest with the 4x100m medley team clocking 3:16.88.
Ryan, Greene and McMillan will compete in other events in Tokyo but Hyland is now deprived of an appearance at the Olympics.
It is believed that Greece will now be invited to compete in the 4x100m medley relay in Japan instead of Ireland.
"Everyone is disappointed and particularly Brendan Hyland, who faced some difficult news after the elation of the day before," added Rudd.
"It looks like Fina didn't get their rankings in order and have made the invitation to us without checking that they had everything in place before putting the invites to us.
"We won't be leaving this unchallenged and there will be some correspondence with Fina in the next couple of days to find out what has happened as they have not given us a great deal of information and to express our dissatifaction with this
"To invite both Greece and Ireland would be the obvious solution - there's two victims in this. Greece were the victims 48 hours ago and now we are the victims.
"The world governing body need to consider how they are going to put this right. There is a very simple solution and get out of jail card for Fina. I'd be more hopeful than confident of that happening and we'll see if they come to that solution themselves."