World Aquatics Championships: Adam Peaty meditating in bid to defend crown
Last updated on .From the section Swimming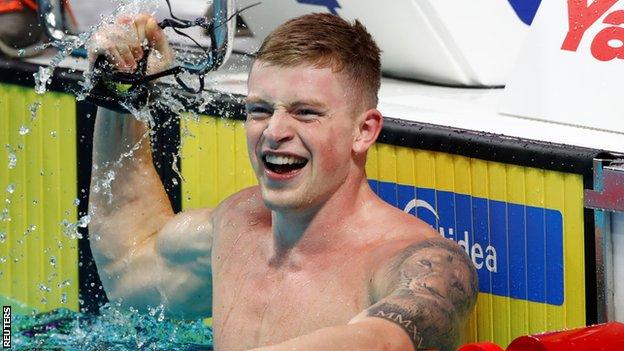 2019 World Aquatics Championships
Dates:
12-28 July
Venue:
Gwangju, South Korea
Coverage:
Highlights on BBC Two, updates on BBC R5L Sports Extra, and reports on the BBC Sport website and app.
Britain's Adam Peaty has been meditating as he attempts to defend his 50m and 100m breaststroke titles at the World Championships in South Korea.
The Olympic champion says he practises "active meditation" to aid his mental health.
The 24-year-old suffered a mental dip after winning gold in the 100m breaststroke at Rio 2016 and has since backed mental health campaigns.
"I don't believe there's a taboo around it," said Peaty.
Peaty competes in the 100m in Gwangju on Sunday and the 50m on Tuesday and he said it is vital for athletes to be able to escape the pressures of professional sport.
"When I go training I can be on cloud nine, or I can be on cloud minus nine," he said.
"I always keep myself in check and, if I'm feeling angry or tense, I'll always question why. You're not going to have a perfect week. No-one has a perfect week, or a perfect month.
Although he finished second in the 50m at the 2018 Commonwealth Games, Peaty has dominated the 100m and 50m in recent years.
He will attempt to retain Olympic gold in the 100m in Tokyo in 2020.
"To stay number one over this period of time is very hard and takes a toll on you mentally. It takes a toll on you physically," said the Englishman.
More world records on the horizon?
Peaty has set the 11 best 50m breaststroke times in history, and the 14 best times in the 100m breaststroke.
Yet he maintains he can break his own 100m world record in South Korea - what he calls the "magic 57-second barrier".
"I could blow it away, get near it or be miles off it - but it's looking good," Peaty told BBC Sport.
Peaty says he "thrives off the pressure" of being the overwhelming favourite in his field, but recognises complacency as his biggest obstacle.
"When complacency creeps in it's like water down a crack - it will open, open, open. I trained hard for the Commonwealths but I didn't train smart. Now I think about every single stroke. I felt I was unbeatable at the Commonwealths and that's when you're open to a loss.
"Some athletes get so sucked up in their sport that if they lose then they lose everything - when really that's not the case because every athlete is vulnerable to a loss and there's no harm in it.
"But, saying that, I still hate losing."