Duncan Scott: International Swimming League cancellation a 'catalyst for change'
By Nick Hope
BBC Olympic sports reporter
Last updated on .From the section Swimming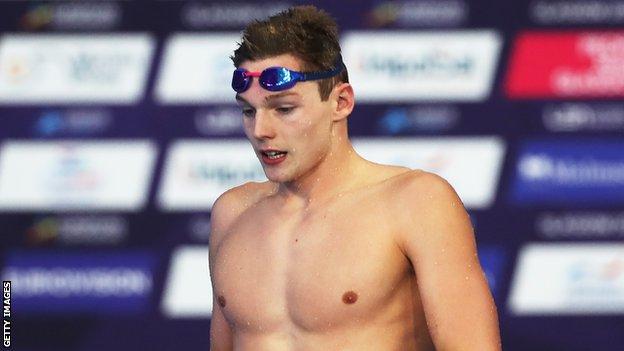 Britain's European champion Duncan Scott says the cancellation of the International Swimming League (ISL) will be a "catalyst for change".
Scott and British Olympic gold medallist Adam Peaty were among the swimmers due to compete in the inaugural event in Italy next month.
Many have directed their anger towards governing body Fina, which threatened to ban swimmers who raced in the ISL.
"Swimmers want events like this," Scott, 21, told BBC Sport.
The Italian Swimming Federation announced on Friday that the ISL would not go ahead following Fina's threat to impose sanctions on them and prevent swimmers who competed from racing at the 2019 World Championships.
Many leading swimmers have expressed frustration in recent months about the way the sport is being run, particularly regarding their lack of involvement in key decision-making.
"It's disappointing [the ISL was cancelled] when so much effort and work went into it and given the amount of athletes who were willing to sacrifice different things," said Scott, whose European and Commonwealth titles helped him claim the British swimmer of the year award.
"Bringing all of the best in the world together at an event that's funded, has financial support and is great for the spectators will be good for the sport.
"I think it [ISL's cancellation] will be a catalyst for further events to come."
The backers of the ISL are planning legal action against Fina, saying its stance contravenes European Union law and claiming the body is "using its powers to restrict competition" and thus reducing athletes' opportunities to earn prize money.
In a statement on Friday, Fina denied that is its intention and instead criticised the ISL organisers for only outlining their proposals for the event at "short notice".
The ISL subsequently rejected that claim and says talks began well in advance of Fina's six-month time frame requirement and it has now outlined plans to run a full series of events from late 2019.