Adam Peaty criticises decision to scrap International Swimming League
Last updated on .From the section Swimming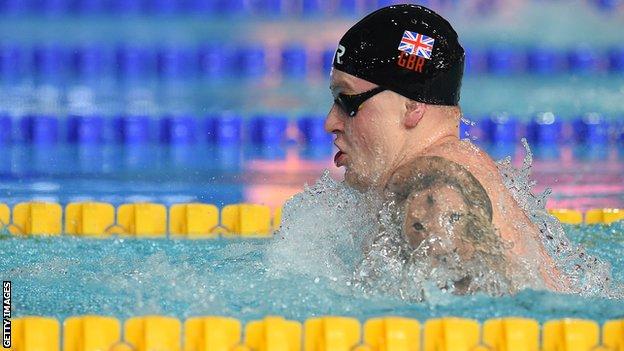 Olympic champion Adam Peaty has criticised the "politics" in swimming following the cancellation of December's inaugural International Swimming League event in Turin.
Fina, the sport's international governing body, threatened to ban swimmers who raced in the competition from next year's World Championships.
Fina denied the ISL's request to approve the event.
"I think this is the wrong decision," Briton Peaty, 23, said.
"It will galvanize the swimmers, not break them."
Fina refused to acknowledge the ISL's bid for approval as the new event would be a rival to its own World Cup series. The event was cancelled on Thursday.
High-profile swimmers, including Olympic 100m breaststroke champion Peaty and compatriots and Commonwealth champions Duncan Scott and Ben Proud, have backed the ISL event.
Other British swimmers who were set to compete included James Guy, Georgia Davies, Max Litchfield and Siobhan-Marie O'Connor.
Some athletes have grown frustrated at the way Fina runs the sport, particularly their lack of involvement in key decision-making.
In a statement on Twitter, Peaty said: "As swimmers who represent our country and are passionate about our sport, we need to ask why.
"I firmly believe that the athletes should be at the heart of any decision made by our governing body and this is just what our sport and the athletes need."
Double Olympic silver medallist Guy added: "We want the sport of swimming to grow, and be bigger in the sporting world. Not just be two minutes of TV time every four years."
ISL organisers are considering legal action against Fina as they believe the stance contravenes EU law by "using its powers to restrict competition" and thus reducing athletes' opportunities to earn prize money.
In an open letter to athletes, Italian swimming federation (FIN) president Paolo Barelli said: "We understand that this may be considered as anti-competitive conduct, which is not permitted under European Union law, which, as a European Federation, FIN must comply with.
"FIN can only assume that Fina's true motive is to safeguard its dominant position as the sole and exclusive license holder of aquatics sports."
Fina responded with a statement on Friday, which read: "The project of the Italian swimming federation to organise a swimming competition in Turin at short notice did not meet all the necessary Fina rulebook requirements.
"These requirements are in place to ensure that international competitions provide the best possible conditions to all participating athletes while maintaining a healthy calendar."