Hannah Miley: Scottish swimmer on ankle surgery, uncertainty over Tokyo and having her funding cut

By Tyrone Smith
BBC Scotland Sport
Last updated on .From the section Swimming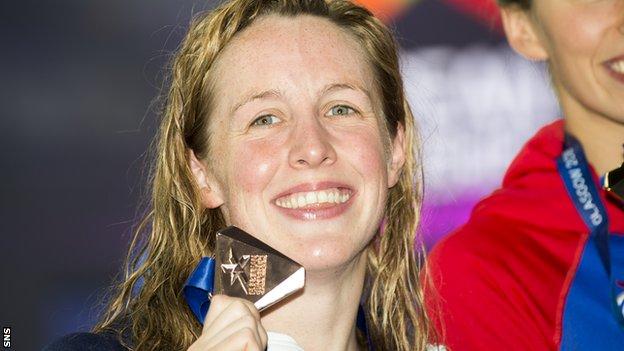 Hannah Miley is facing arguably the biggest challenge of her career as she faces "up to a year" to return to peak fitness following ankle surgery.
The popular Scottish swimmer, 29, won Commonwealth silver and European bronze medals this year.
But after she suffered ankle pain for two years, an arthroscopy revealed an issue that led to September surgery.
"They put a camera in and found I had an extra ligament in my ankle," she told BBC Scotland.
"That ligament had completely frayed, so they have removed it. The procedure was to try and get that out, and I am just on the road to recovery, trying to get rid of the scarring tissue, and get the range back in my ankle.
"It is amazing how much I rely on my ankles to be really floppy and flexible. It is a bit of a long process, but it is getting there."
Miley has been told it will take "probably around six months to a year" before she can hope to be back in elite competition.
"I'm coming up for three months now which they say is always the hardest part," she said. "I'm learning a lot about myself and my body, and how to manage it. I'm just taking it a month at a time."
The operation actually came as a relief to the triple Olympian, providing confirmation of the reason for her discomfort.
"It was a bit of mystery, and nobody could really pin-point what it was," she recalled. "So to have a reason for the discomfort puts my mind at ease knowing that I am not making this up - there definitely was something wrong."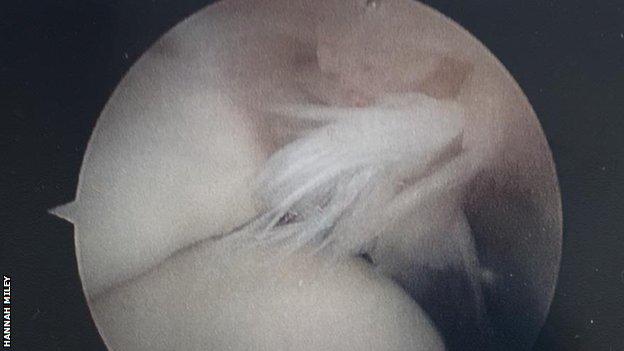 'I'm leaving the door open for Tokyo'
While Miley approaches her recovery with trademark optimism, she concedes it has placed a major question mark over her participation at a fourth consecutive Olympics, at Tokyo 2020 - or even returning to top-level competition at all.
"I am still optimistic," she said. "I think I would be very daft if I made a clear-cut decision just because of this; I have never been in this situation before, and I don't really know what it means for my body.
"So once it gets back to feeling fresh and not being in pain, I would like to see what my body is capable of doing. I will know early on if it is capable of going for another Games or not, so I'm not ruling it out but at the same time I'm not saying I'm definitely going to be going.
"I'm kind of leaving the door wide open because I just love what I do, and it would be very hard on the day, whenever that comes, to say I want to finish.
"Tokyo is there, I'm very aware it is there - that is why I am taking it a month at a time. If I think too far into the future, I would probably get myself into a knot, because I feel I am not achieving what I expect of myself.
"So small goals are going to keep me moving forward and give myself a realistic option. I would love to do it, but I need to make sure I give myself a fighting chance of being up there among the best again."
'I am used to facing challenges'
Given she has finished sixth, fifth and fourth in the 400m individual medley at the past three Games, it is understandable Miley is not giving up on her hopes of a belated Olympic medal just yet.
But returning to full fitness is not the only hurdle she will have to overcome.
Despite winning a bronze medal at the European Championships in Glasgow in August, she has lost her funding and been dropped from British Swimming's World Class Performance Programme for the 2018-19 season.
Typically, she remains philosophical about this latest setback.
"It was disappointing to find out that I wasn't on funding, but that is sport," she added. "You get athletes who are funded and you get athletes who aren't. I just have to keep moving forward. I can't just sit disgruntled about it.
"Sport definitely doesn't come cheap. I'm lucky enough that I have had some really good sponsors that help me, so that support and the support of my family as well, and my partner, it really does go a long way.
"So I am kind of used to facing challenges and not shying away from them. I just have to take it on the chin and just find a way around it. There will be a solution for it, so I will go for it."