Jazz Carlin recovers from pneumonia setback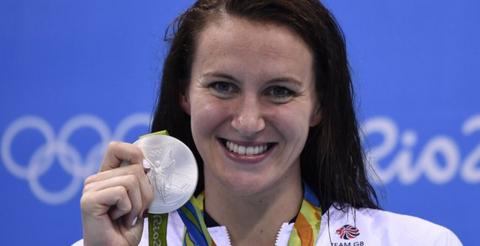 Double Olympic silver medallist Jazz Carlin says she has recovered from pneumonia to continue her new open water swimming career.
Carlin failed to win a Commonwealth Games medal in the pool on the Gold Coast in April after suffering from illness before and after the event.
The 27-year-old will compete in her first open water event of the year in Barcelona, Spain, on Saturday, 30 June.
"It has been a difficult year so far," said Carlin.
"Since January I have struggled to fight off illness and it was not the best build-up for the Games.
"I wanted to go to another Commonwealth Games and represent Wales again but I was just ill at the wrong time and it did not work out."
Carlin only managed to finish sixth in the 800m freestyle on the Gold Coast before pulling out of the 400m freestyle event.
The 2014 Commonwealth Games champion says she suffered illness before her trip to Australia and was in hospital for a few days when she returned home in May.
"When I came back from Australia I ended up in hospital with pneumonia, it wasn't great," said Carlin.
"When you are an athlete it is frustrating when you have an illness. I had to rest a lot and get back to fitness.
"I have had amazing support around me to get back. I am still recovering but feeling a lot better now."
'I am going to make mistakes'
The 2020 Tokyo Olympics remains the long-term target after Carlin made the decision to switch to open water in 2017.
In the meantime, Carlin has been included in the Great Britain squad for the European Championships in Scotland in August.
"I always want to go to any event winning medals," said Carlin.
"I am not the most experienced open water athlete and I am going to make mistakes."
Carlin will appear in the European Open Water Swimming Cup event on Saturday in Spain before taking part in her first major championships in her new discipline.
She previously competed in a couple of World Cup open water events towards the end of 2017 and admitted the change to the 10km event had been an eye opener.
"It was a bit of a shock," said Carlin. "There is more to learn than I realised. It is very different to pool swimming, you have people around you whacking you on the head, it's a very physical event.
"I am used to going up and down a lane with nobody around me. I have done that for years and know it like the back of my hand.
"I love the endurance element. I was not sure how I would cope with it when you are swimming for a couple of hours.
"I love pushing my body. I am a novice and it is so exciting to take on a new challenge."