Commonwealth Games: Adam Peaty uses a fear of failure to drive him on
By Owen Phillips
BBC Sport
Last updated on .From the section Swimming
Adam Peaty has pretty much "won" breaststroke.
Olympic champion, world champion, European champion, Commonwealth champion, British champion, world record holder, nearly four years unbeaten.
The 23-year-old already boasts a truly astonishing list of medals, records, awards and achievements.
But it's the stinging prospect of tasting an oh-so-rare defeat that continues to spur Peaty on.
"I have this thought quite a bit, 'what happens if I do lose?'," he told BBC Sport. "But that only motivates me to go even further and push new limits.
"There's a saying that if you cut the head off a snake, two more will grow and that's exactly what will happen with me."
It's that attitude that ensures Peaty's ongoing utter dominance in a discipline and sport where the winners are normally separated by the finest of fine margins.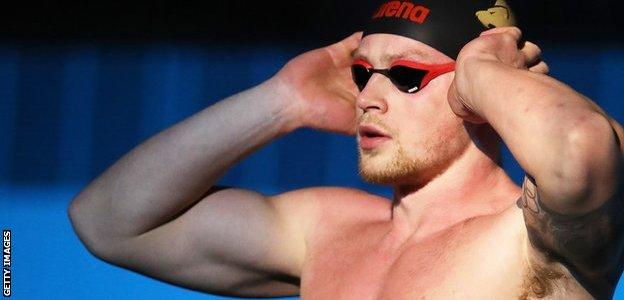 His Olympic 100m title at Rio 2016 was pretty much guaranteed after 25 metres, with Peaty's winning time more than 1.5 seconds clear of his nearest rival.
In a two-year spell from 2014, Peaty won 100m breaststroke gold at every major swimming event, with his world record of 57.13 seconds at the Rio Olympics the incredible end point.
In July 2017, Peaty's name was the only one appearing on a top-10 list of the fastest 100m long course times in 100m breaststroke history.
Now he has 'Project 56' on his mind, his name for attempting to become the first swimmer to break the 57-second mark in his event.
The context behind the medals and records is bewilderingly impressive.
Postponing the 'happy time'
To keep so far ahead of the field, Peaty's schedule in the build-up to the Commonwealth Games in Australia has been every bit as tough as you would expect - and a bit more.
Success comes at a cost though. The swimmers' tapering utopia wasn't an option to Peaty prior to defending his 50m and 100m breaststroke titles at the British Championships in Edinburgh earlier this month.
Big competitions normally mean a period of rest and reduced training, but there was no luxury with bigger fish to fry in April and in August.
"The main two events of the season for us are the Commonwealths and the Europeans so we would rather rest fully for them than miss too much training," Peaty explained.
"There was no strategic advantage resting for the British Championships. We would probably then lose out at the Commonwealths. We went straight through it to see what we got."
What 'we' - Peaty and long-time coach Mel Marshall - got was none too shabby either.
"Getting 58.7 and 27.0 were two amazing times for this time of year," said Uttoxeter-born Peaty.
"Obviously the tapering now comes along which is our happy time where we rest, get a little bit more twitchy and a bit faster so we are looking at pretty fast times come Gold Coast."
And what better place to showcase any further improvements than at the Commonwealth Games, the starting point for an incredible career to date.
'Where Peaty was born'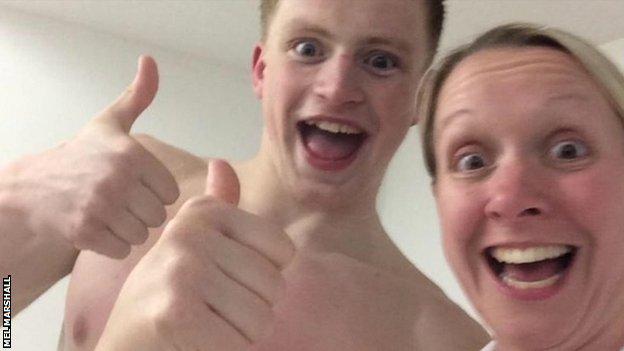 Marshall, who still oversees Peaty's progress in her role as the National Lead Centre Coach at Loughborough, said the Australia trip was just one part of a complicated journey building up to the Olympic Games in 2020.
Planning has to be meticulous for the top swimmers, with a hectic year of competition taking Peaty and co to within two years of Tokyo.
"The British Championships were an interesting meet this year because our focus is the Commonwealth Games and primarily the European Championships," Marshall explained.
"But the Commonwealth Games is where Adam was 'born'.
"It was his first ever win at a major championships and he should go there and absolutely embrace that environment and look at where he has come in the past four years and see if he can demonstrate again what is he great at."
The signs are good. His times in once again winning the 50m and 100m breaststroke British titles were better than expected for the this stage of the season.
"From Adam's perspective I couldn't be happier," Marshall added.
"He has had a really hard winter block; he has lifted really well in the gym and his nutrition and every little tool - it's like a Formula 1 car and every kind of part in terms of his wheels, his engine - it is all in really good shape."
Any event, any race - no matter what the timing and how it fits in with his schedule and the bigger picture - tends to awaken Peaty's fierce competitive streak. Much of that can be traced back to the fear factor of not being the best.
No time to sleep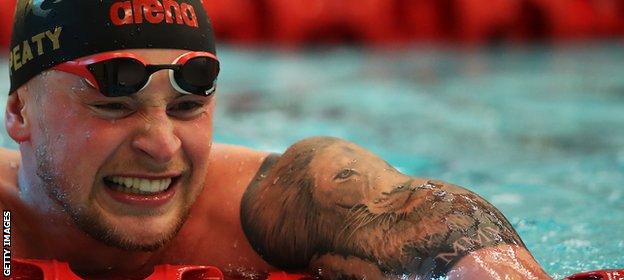 "If I do lose it will be their mistake because me and Mel will work even harder to make sure it doesn't happen again," Peaty said.
"That's the philosophy I have had since I was a teenager. When I took a few defeats I thought 'this isn't going to happen again' and I came back even stronger.
"Since 2014 I haven't been defeated. That's not an arrogance thing, it's more of a confidence thing; I work harder than probably anyone in the pool that does breaststroke.
"That's part of sport. A really talented guy could come along tomorrow and put a really good time out and I will do my best to attack it.
"That's why in any sport you cannot afford to sleep, because you will get overtaken.
"This will hopefully be my fourth year undefeated so it is something to celebrate. I am looking forward to the competition and seeing who is popping out there. But at the same time it is a bit of fun.
Australia's insane atmosphere
"Hopefully I will get near my world records but I won't be at a loss if I don't because the Europeans are around the corner as well.
"I think I can get within the region of 57.5. If it's faster it's faster, if it's slower it's slower, but definitely under 58 - it's just how far I get under that."
Peaty says racing in Australia will be "a one-off kind of experience".
"The fans out there will be insane and the pool is crazy - its 12,000-13,000 and that, in a 50m radius, is a lot of people.
"And it will be outdoors which is different for us, possibly new challenges but whatever challenge it is we will be more than prepared."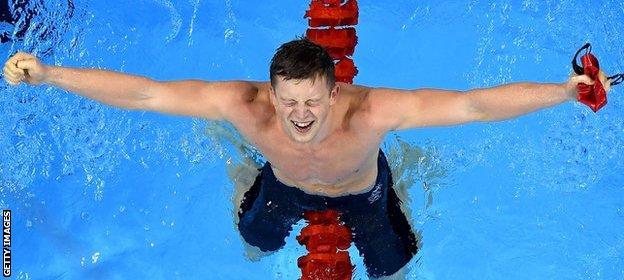 The new challenges are keeping Peaty "fresh". Despite all his success, he still maintains his enthusiasm and "mostly" knows what he is striving for.
"A legacy is the most important thing for me now," he said.
"Once you achieve what there is to achieve, you do go 'what is next?'
"But I don't think I have reached that stage where I feel 'wow, I have done everything'.
"I still feel I have something in there that I haven't achieved and I don't know what it is yet.
"I think once I do I will probably call it a day. I have 10 years left in this sport and that will hopefully take me to LA 2028 but you don't know what is around the corner, and that is the beauty of sport and the risk we play, and I am ready to play it every day."
Analysis
Nick Hope, senior Olympic and Paralympic sports reporter
Adam Peaty is by far the most dominant male swimmer in the world at present and he's redefined what was thought possible in the breaststroke events.
Since breaking the previous 100m world record of 58.46 seconds set by Cameron van der Burgh at London 2012, he has lowered the mark twice more and in total by a stunning 1.33 seconds, to its current mark of 57.13.
That kind of progression in a 'sprint' event is unheard of in the modern era of the sport and has stunned even the greatest of them all - Michael Phelps.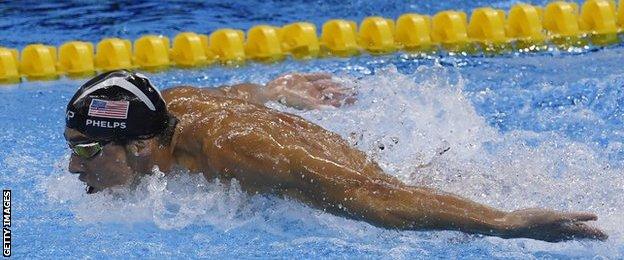 Phelps said the Briton's 100m gold at Rio 2016 was "one of the grossest swims" he'd ever seen, adding he was 'glad he didn't have to race him'.
High praise indeed, but any comparisons with Phelps should be ignored. He - although strongest at butterfly - was a multi-event specialist, who also won Olympic titles in individual medley and freestyle events, which Peaty will not.
The English swimmer is an entirely different beast - a thoroughbred specialist - so, comparisons with track athlete Usain Bolt are potentially more appropriate.
They're once in a generation 'freaks of nature' who are able to combine phenomenal physique with a near-perfect technique and are fuelled by a relentless desire to keep pushing the boundaries of the human body in pursuit of further record-breaking success.
But for one false start in 2011, Bolt went undefeated at the World Championships and Olympic Games between 2008 and 2015 - a period of domination Peaty is only halfway through himself.
However, remember that Bolt's historic individual world records came only in a 12-month period encompassing the Beijing 2008 Olympics and Berlin 2009 World Championships, whereas Peaty's marks across 50m and 100m events have spanned two years and there is every suggestion he will go quicker.
With the major focus for 2018 being the European Championships rather than the Commonwealth Games and no serious contenders likely to offer a major threat in either event I'm not convinced 'Project 56' will be achieved this year.
It may be Tokyo 2020 before we see Peaty able to lower his already monumental effort from Rio 2016, but he is a man for the biggest of occasions and what better way to defend his Olympic title than with a time which could remain unbeaten for decades.